Racing in Country NSW will benefit from Country Showcase meetings that were launched in the 2016/17 season and are continuing into 2018 and 2019. Showcase meetings offering a minimum of $30,000 per race in prizemoney will be staged at various courses throughout NSW.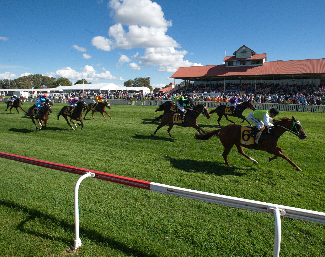 In many instances, Showcase meetings will be staged on emerging Cup or Feature meetings at country racecourses. This series of meetings started
in August 2016 with the Narromine Cup and Taree Cup meetings.
"The Showcase meetings provide excellent opportunities to focus greater attention on some of NSW's emerging country cup meetings," said Racing NSW's Chief Executive, Mr Peter V'landys AM, on launching the initiative.
"Increases to minimum prizemoney and Country Showcase meetings come on top of the highly successful expansion of The Championships to include Country and Provincial racing and the implementation of Highway races at most metropolitan Saturday meetings.
"These prizemoney increases, along with previous minimum prizemoney increases, have seen an increase in minimum Country TAB prizemoney of 110% since 2012," Mr V'landys concluded.
2018-19 COUNTRY SHOWCASE MEETINGS
| | | | |
| --- | --- | --- | --- |
| Port Macquarie (results) | Friday, 5 October 2018 | North Coast | Feature-Port Macquarie Cup |
| Armidale (results) | Wednesday, 14 October 2018 | Hunter & North West | Feature-Country Showcase |
| Wagga Wagga (results) | Friday, 2 November 2018 | Southern | Feature-Country Showcase |
| Gundagai (results) | Friday, 16 November 2018 | Southern | Feature-Snake Gully Cup |
| Cessnock at Newcastle (results) | Wednesday, 21 November 2018 | Hunter & North West | Feature-Cessnock Cup |
| Goulburn (results) | Sunday, 25 November 2018 | Southern | Feature-Goulburn Cup |
| Mudgee (results) | Friday, 7 December 2018 | Central-West | Feature-Mudgee Cup |
| Coffs Harbour (results) | Thursday, 13 December 2018 | North Coast | Feature |
| Moruya (results) | Monday, 7 January 2019 | Southern | Feature-Moruya Cup |
| Tamworth (results) | Thursday, 24 January 2019 | North-West | Feature-Country Music Cup |
| Sapphire Coast (results) | Sunday, 3 February 2019 | Southern | Feature-Bega Cup |
| Dubbo (results) | Sunday, 10 February 2019 | Central-West | Feature-Country Championships |
| Quirindi (results) | Friday, 15 February 2019 | Hunter & North West | Feature-Quirindi Cup |
| Port Macquarie (results) | Sunday, 17 February 2019 | North Coast | Feature-Country Championships |
| Albury (results) | Saturday, 23 February 2019 | Southern | Feature-Country Championships |
| Goulburn (results) | Saturday, 2 March 2019 | South-East | Feature-Country Championships |
| Mudgee (results) | Sunday, 3 March 2019 | Central-West | Feature-Country Championships |
| Tamworth | Sunday, 10 March 2019 | Hunter & North West | Feature-Country Championships |
| Grafton | Sunday, 17 March 2019 | Northern Rivers | Feature-Country Championships |
| Albury | Friday, 22 March 2019 | Southern | Feature-Albury Cup |
| Muswellbrook | Sunday, 24 March 2019 | Hunter & North West | Feature-Wild Card |
| Muswellbrook | Friday, 29 March 2019 | Hunter & North West | Feature-Muswellbrook Cup |
| Wellington | Sunday, 7 April 2019 | Central-West | Feature-Wellington Boot |
| Orange | Friday, 12 April 2019 | Central-West | Feature-Orange Cup |
| Tamworth | Sunday, 28 April 2019 | Hunter & North West | Feature-Tamworth Cup |
| Wagga Wagga | Thursday, 2 May 2019 | Southern | Feature-Wagga Wagga Town Plate |
| Wagga Wagga | Friday, 3 May 2019 | Southern | Feature-Wagga Wagga Cup |
| Gunnedah | Sunday, 19 May 2019 | Hunter & North West | Feature-Gunnedah Cup |
| Nowra | Sunday, 26 May 2019 | Southern | Feature-Nowra Cup |
| Coffs Harbour | Friday, 31 May 2019 | North Coast | |
| Dubbo | Friday, 14 June 2019 | Central-West | |
| Coffs Harbour | Friday, 21 June 2019 | North Coast | |
| Coonamble | Sunday, 23 June 2019 | Central-West | |
| Tamworth | Sunday, 28 June 2019 | Hunter & North West | |