Register Racing Colours
Jockeys wear the colours of the managing owners / managing syndicate or if none provided, by the trainer. You can create your own set of colours to be worn by your horse by completing the Application to Register Racing Colours and submitting to Racing NSW to see if the colours are available.
Choosing Your Racing Colours
Racing Colours are comprised of a set of Jacket, Sleeve and Cap Markings and the racing colours themselves. Different colours can be used for the Jacket, Sleeve and Cap backgrounds and for the markings on each of these. See the rules below for limitations.
New Applications
The initial registration fee is $110 and will entitle the ownership of the registered colours until the next renewal date (1 August each year).
The subsequent renewal payment is $150 and will entitle the owner to a further five years of registration ending 31 July in the 'renewal' year.
You will need to complete an Application to Register Racing Colours form and lodge it with the appropriate fee.
If you would like to amend a current set of racing colours, an Application to Amend Racing Coloursmust be completed and sent with the relevant fee. All amendments are at the discretion of the Colours Department.
Colour Renewals
The renewal date is 1 August. Renewal notices will be sent out in June/July and payment of $150 for 5 years renewal is required PRIOR TO 31 August.
If payment is not received the ownership will lapse, and the colours will be deemed available for new registration at 1 November (Please be advised that this means you may LOSE your colours if the renewal is not paid by this date.)
If you try to renew after this period it will be subject to a comparison check and the fee will be that of the initial registration. i.e. $110 for 1 year followed by the $150 renewal fee at the next renewal date.
If you have changed your contact details, e.g., address and email, please use the Change of Address form below or, if you have NOT received a renewal notice by 31 July, please contact Racing NSW Colours Department on (02) 9551 7545 urgently.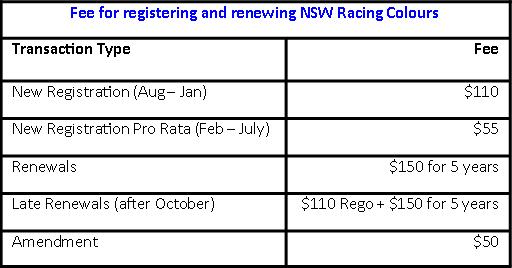 Rules and Conditions
Local Rule of Racing 101 and 102 apply to Racing Colours in NSW. In addition, Racing NSW Conditions apply as per below:
LR 101.
1. All colours are subject to the approval of the Board.
2. Nominators of horses must declare by stable return the colours to be carried and such colours must be worn by the horse's rider. Provided that at any time, the Stewards or an authorised official of the Club concerned may direct that alternative colours must be worn.
3. Every horse which races within the Metropolitan Area must carry colours registered by the nominator (or if more than one, by one of the nominators). Provided that the Stewards, or an authorised official of the Club concerned, may give permission for other colours to be worn.
4. If 2 or more persons declare the same colours at the time of entry, the Committee of the Club or the Stewards shall decide which person shall have the use of such colours and direct or authorise the other person or persons to adopt other colours.
LR 102.
1. A register of colours shall be kept by the Board.
2. A fee to register colours may be set from time to time by the Board.
3. Subject to this rule, registration entitles the person registering to the exclusive use of the colours during the period covered by such registration.
4. Registration may be renewed on or before 1 August each year or on such year determined by a 5 year renewal cycle period. If application is not made for renewal of registration within 3 months of the due date, any right of renewal shall lapse.[subrule amended 18.6.08]
5. The representatives of a deceased owner, or other person becoming entitled to race a horse on the death of an owner, shall subject to this rule have the exclusive right to use the deceased's colours without registration until the time for the annual renewal of registration.
6. The Board reserves the right to refuse the renewal of registration of any colours.
7. Disputes as to the right to any colours shall be determined by the Board.
The following conditions apply to registration of your racing colours:
Racing colours may be registered by up to ten nominators each of whom shall have equal rights to the use of the racing colours provided that they all have unequivocal agreement to these rights.
Identical jacket combinations shall not be allowed with a different coloured cap, except if application is made to register subsequent sets of colours in the same ownership (2nd and 3rd sets etc)
The following dimensions shall be used: -Diamond, crossed and single sashes 100mm
Braces 75mm
Stripe 125mm
Diamond 28Omm depth and 230mm width
Star 28Omm point to point
Checks and harlequin diamonds 100mm
Stripes, diagonal stripes and hoops 75mm
Horseshoes, circles, spots, diamonds and stars 100mm
Horseshoes 28Omm depth and 230mm width
Maltese cross 28Omm x 28Omm
Band and armbands 125mm
Checks in checked sash, band and armbands 60mm in rows of 2
Striped cap two stripes of one the secondary colour
Checked caps 60mm
Spotted and horseshoes caps 8Omm one to each segment
Quartered caps 6 segments alternating
Corporate logos and symbols are not allowed. However, consideration will be given to approval of colours that promote Ownership, including syndicates and Partnerships. Each application will be considered on its merits.
Should block (fully plain) colours become available, Racing NSW reserves the right to auction the colours or reserve the set for other purposes.
Colours (other than Block Colours) may be transferred from one Owner to another on application to Racing NSW. Such application would usually be approved, except Block Colours (see point 6), which cannot be transferred, provided that special application may be made by the Registered Owner of the Block Colours to Transfer them to another Owner (eg. Immediate Family member). Such application, if made, shall be at the discretion of Racing NSW.
Colours Department
Phone: (02) 9551 7500
Fax: (02) 9551 7587
E-mail: colours@racingnsw.com.au
When the registration application is completed, please return it to Racing NSW with the relevant fee.
Racing NSW will send a Certificate of Registration of your colours. Please do not have your colours made until this confirmation is received. If required, a list of makers may be obtained by contacting the Colours Department.
Change of Address
If you have changed your address, please use the Change of Address form below or if you have NOT received a renewal notice by 31 July, please contact Racing NSW Colours Department on (02) 9551 7500 urgently. Complete the Change of Contact Details.