EXPERIENCE THE RACE THAT STOPS A NATION - HERE IN NEW SOUTH WALES!!
By Mark Brassel
There are 13 race meetings held in New South Wales on the first Tuesday in November (7th) as well as a meeting at Canberra's (ACT) Thoroughbred Park.
Great racing aside, there's so much to see and do at each event. Why not get a group together, dress to impress and get trackside to cheer on the best Thoroughbreds in the world. Use the guide below to find a celebration near you!
ROYAL RANDWICK
Enjoy Royal Randwick at it's finest with live racing on the track plus all the action from Melbourne displayed on screens across the entire venue - this is Sydney's biggest trackside party to celebrate the 'race that stops a nation.' Enjoy free Wi-Fi, direct public transport and free parking on site to make this a convenient and entertaining day at the races. Don't forget, your event ticket includes complimentary travel on NSW public transport to and from the event including rail, bus and ferry services, simply present your ticket to transport officers. Plan your trip at transportnsw.info Visit - australianturfclub.com.au
KEMBLA GRANGE
Gates open at 10am with a Fashions on the Field, entertainment, live racing and all the action from Flemington on the large screen. Rose Garden seating - $40 Members, $65 Guest Adult, $55 Guest Pensioner: Ticket price includes entry to course, access to the Rose Garden (undercover marquee) and reserved seating for the day. Public Lawn Marquee Seating - $20 Members, $45 Adults, $35 Pensioners: Ticket price includes entry to course, reserved seating for the day in a section of the Public Lawn Marquee. Visit - kemblagrangeracing.com.au
ALBURY
Celebrate the race that stops the nation with Albury Racing Club. There'll be a big screen set up in the Beer Garden, live music between races plus betting facilities. Hospitality Packages available - Corporate Box $95 per person where you can entertain in style in our window lined Corporate Box. Package includes: Racecourse admission, gourmet grazing platters, 5-hour beverage package, full TV coverage of local and interstate racing with a minimum booking of 40 guests. Many more packages are available, visit - alburyracing.com.au
CANBERRA (ACT)
There is only one place you have to be in Canberra on Melbourne Cup day - Thoroughbred Park. Melbourne Cup Raceday is one of the biggest social events of the year for racing fans, socialites and fashionistas alike, who will witness the running of the Melbourne Cup on the big screen in Flemington whilst surrounded by the atmosphere and excitement of local racing. The iconic Melbourne Cup Raceday is the perfect opportunity to network with clients, entertain guests or socialise with friends and work collegaues and we have a range of hospitality packages to choose from to suit all budgets. The Fashions on the Field will be run on the day with great prizes. Visit - thoroughbredpark.com.au
COFFS HARBOUR
Be part of the glamour, excitement and fun of the race that stops the nation, at the only place on the Coffs Coast with live on-course racing! Join in the splendour and excitement of the Melbourne Cup right here at Coffs Racing Club. The special day features a five-race non-TAB meeting, a Fashions on the Field and live viewing of 'the race that stops the nation'. Ticketing and hospitality packages are available so book your tickets now to avoid missing out. Visit - coffsracingclub.com.au
DUBBO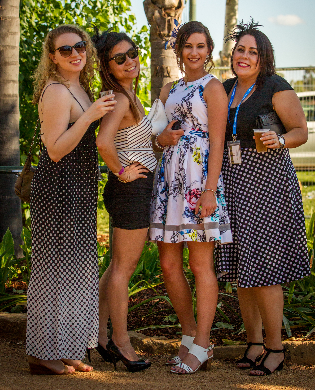 Dubbo City Turf Club has plenty of entertainment lined up on Melbourne Cup Day with a Fashions on the Field and large screen TVs. There are also marquee packages available that include course entry, buffet luncheon, racebook, drinks on arrival, TAB and full bar facilities. Visit - dubboturfclub.com.au
GOSFORD
Enjoy Melbourne Cup Day at Gosford Race Club's The Entertainment Grounds with a picnic race meeting on Melbourne Cup day. The Star 104.5 Melbourne Cup picnic race meeting will feature five live picnic races, delicious hospitality packages, the Lendlease Erina Fair Fashions on the Field, the Milk and Honey Hair and Beauty Bar, live music by The Kranks and all of the action from Flemington on the multiple screens at The Entertainment Grounds. Full TAB and bookmaker services will be available on both local races and 'the race that stops the nation.' General admission tickets are also available at the door on the day of the event for $10. Entry is free for concessions. Gates Open at 11am. Visit - theentertainmentgrounds.com.au
MURWILLUMBAH
Traditional Melbourne Cup day event at the little track among the cane fields. Cup day is always an eagerly anticipated social event in the Tweed region, northern NSW and the Gold Coast. The event just keeps getting bigger and bigger every year with more fashions, marquees, music and all the trappings that a swell country racing affair has to offer. Apart from the thoroughbreds, the always popular Fashions on the Field pageants and competitions will provide one of the afternoon's much-anticipated highlights. This year a total of $1,100 in Tweed City gift cards will be up for grabs in the fashion stakes. Buses will be operating including routes covering the Tweed Coast, Southern Gold Coast, and a shuttle service from Murwillumbah. Visit - tweedriverjockeyclub.com.au
MUSWELLBROOK
Melbourne Cup Day at Muswellbrook is the ideal place in the Hunter Valley to enjoy great country racing and watch the 'race that stops the nation' the 2017 Melbourne Cup on the big screen! Hospitality packages are available to complement your country raceday experience at one of the most picturesque racetracks in NSW! Gates open at 11:30am for a seven-race card and facilities include bars, TAB, bookies, cafe, food stalls, caffe mobilita & big screen in the grounds. Visit - muswellbrookraceclub.com.au
NOWRA
The only venue in the Shoalhaven with live racing, a big screen TV, entertainment and loads of fun for all. Celebrate 'The Race that Stops the Nation' at Archer Racecourse with live racing as well as televised live racing from Flemington on the big screen. Nowra was home of the first Melbourne Cup winner, Archer, therefore we like to celebrate this day in style and find that packages are a great way to enjoy the day. We have many packages available to suit any budget, however, they book out fast, so we recommend booking early. A courtesy bus will be operating in the Nowra areas to and from racecourse. Visit - sctcnowra.com.au
SAPPHIRE COAST
Gates open at 11am with entry $15. The Club hosts a five-race meeting with a huge Fashions on the Field competition and buses operating. "We have invited Dane Waites to run a lap of the course," said Jess Ryan (Sponsorship & Marketing Manager, Sapphire Coast Turf Club). "Dane is incredible and he recently ran from Perth to Pambula to raise awareness for mental health and autism. Dane will run a lap of the racecourse at 2:30pm and after his lap Sapphire Coast Turf Club will be delighted to present him with a cheque for $500 to go towards his cause. He is aiming to raise $500,000 and doing amazing work to raise awareness for mental health and autism. Go Dane!"
Visit - sapphirecoastturfclub.com.au
TAMWORTH
Join in the fun at TJC for Carlton Draught Melbourne Cup Raceday. Gates open at 10am and there's plenty to see and do on the day with races, Fashions on the Field, several bars, dining room and snack bar for a delicious lunch, TAB windows, bookmakers, TVs to watch all the races and a free bus to get you to and from town! The buses start from 11:25am at the PCYC on Peel St. Fashions on the Field this year will see the return of our registration table. You'll see it as you walk in, so approach the table and let them know you'd like to enter. There are thousands of dollars worth of prizes up for grabs. Marquees are ideal for a corporate day out for staff or clients, or to secure a prime location for your sporting group, club, family and friends. Visit - tamworthjockeyclub.com.au
TAREE
Taree's biggest social raceday of the year where you can enjoy all the local racing action and social activity the see 'the cup' at 3pm. Gates open at 10am with the first of five local races at 12:45pm. Admission for Adults is $15 and $10 for Pensioners. All races from Flemington and other meetings throughout Australia will be shown on the infield big screen opposite the grandstand and general viewing areas along with screens through the general viewing areas. There will be plenty of food and beverage outlets in the general viewing areas for everybody to enjoy the day. The Fashions on the Field competition sponsored by Manning Mall is always very popular with $1,100 in prizes. Complimentary buses run on the day and all buses will depart on the return journey from the racecourse at 5:30pm. Visit - twraceclub.com
WENTWORTH
Located 30km from Mildura in the corner of the SA & Vic borders, the Club races on a dirt track. There'll be a Fashions on the Field with over $1,800 in prizes, a five-race card with the first race starting around 1pm, on-course tote and four bookies, marquees, umbrella tables & members area in our beautiful trackside lawn area, alfresco luncheon, free kids jumping castle, plenty of shade and lawn areas for people to set up their own tables & chairs and a fully stocked bar (no BYO). "We have everything Flemington has, except a line up for the loos!" said Annette Fraser, president of Wentworth District Racing Club. Visit - wentworthraces.com