It can be dangerous to look past the winner so let's not undersell Wild Ruler's victory in the $500,000 Inglis Nursery (1000m) at Randwick on Saturday.
Punter's Intelligence sectional data uncovered a stack of eye-catching runs out of the two-year-old feature but Wild Ruler, while he had more favours than most thanks to barrier one, held a commanding margin on the line.
The Inglis Nursery winner has won two Golden Slippers in the past six runnings to date so it shouldn't be forgotten the colt clocked 33.68 for his last 600m and that time was bettered only by two others in the race.
He set up his win running the fastest 600m-400m of 11.02 and his final 200m of 11.60 was quicker than more than half the field.
The two youngsters with the real flashing lights on were second last and last on the home turn.
Hot Spring Gold was responsible for the race's fastest last 600m of 33.43 as he charged through the pack to run seventh; September Run was closer to the outside fence on the turn and while she ran 13th her sectionals will be talked about for a while.
September Run clocked 33.71 and arguably produces a superior final 600m to Hot Spring Gold had she not lost the compass.
The filly covered an extra 10.2m in the run which is extraordinary for a 1000m race and once she balanced up she ran the 400m-200m in 10.82 and the last 200m in 11.12, that final split about 1.5 lengths quicker than anything else.
Dismissal made up plenty of late ground running 33.66 for her last 600m while Sunborn was also strong late, running 33.84.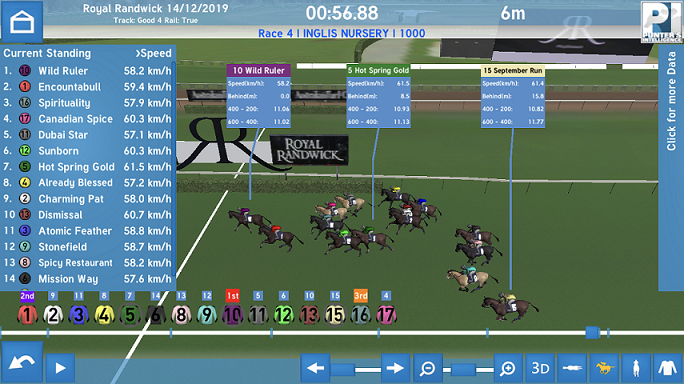 The two 1600m races at Randwick were run in very similar time with Quackerjack winning the Group 2 Villiers in 1:34.20 and Matowi claiming the Benchmark 88 in 1:34.24.
The third placegetters from both races stood out as horses to follow and we'll start with Berdibek who clocked 34.27 for his last 600m at his first run from a spell.
The grey was well supported and found himself some 26m off the lead midrace, he covered an extra 5m compared to Matowi and that may have been the difference.
Berdibek ran the fastest 600m-400m of 11.28 to put himself in the race and the best last 200m of 11.83 – unless this was the race that got away he's ready to win.
Another grey Mr Reckless was outsprinted when it counted over the mile, he raced in front of Berdibek, but there was plenty to like about his final 200m of 11.93 so he'll also be a force up to 2000m.
Sambro was having his second run from a long spell in the Villiers but showed he's back in business clocking the race best final 200m of 11.52, not sure where he goes next but he should be ready to peak.
Interestingly, the fastest last 600m of the Villiers was run by Noble Boy (34.26) who finished last.
There might have been a hard luck story for Feel The Knight in the TAB Highway after he was held up badly for much of the home straight.
He ran 33.65 for his last 600m without being tested and no doubt his final 200m of 11.80 would have been quicker with clear running.
Perennial Highway competitor Zardoro produced the fastest last 600m of the race running 33.42 – 1000m isn't really his go and he'll crack it for another win sooner or later.
Fastest last 600m: Signore Fox 33.38
Most ground covered (to win): Morton's Fork +10.2m
Don't miss Punter's Intelligence at 7pm on Tuesday on Sky Thoroughbred Central.