The most interesting aspect of Mister Songman's runaway win at Randwick on Saturday isn't that he almost broke the course record but that it included the slowest time for one of the seven 200m splits.
That's testament to the often under-rated Adam Hyeronimus' front-running tactical ability.
Mister Songman stopped the clock at 1:20.55 which was 0.22 outside Trapeze Artist's course record.
Punters Intelligence data shows he ran the first 200m in 12.94 (the only horse under 13) and scooted his second 200m in 10.33 (0.28 faster than any other) then Hyeronimus slammed on the brakes and he ran the 1000m-800m in 11.50 which was 0.21 slower than the next slowest for that section.
From the 800m-600m he ran 11.57, which was third slowest for that split, before Hyeronimus kicked Mister Songman into gear and he ran 10.99 from the 600m-400m and 11.11 from the 400m-200m (both fastest) and he still ran the third best last 200m of 11.98.
That 1400m contest was run in stark contrast to Redouble's victory in the preceding race over the same course.
While Mister Songman ran 1:20.55, Redouble won in 1:22.13 (1.58 slower) but his last 600m of 33.06 was 1.02 quicker than Mister Songman.
Bondi, who led the race won by Redouble, went out in 36.52 for his first 600m while Mister Songman ran 34.77 for his first 600m.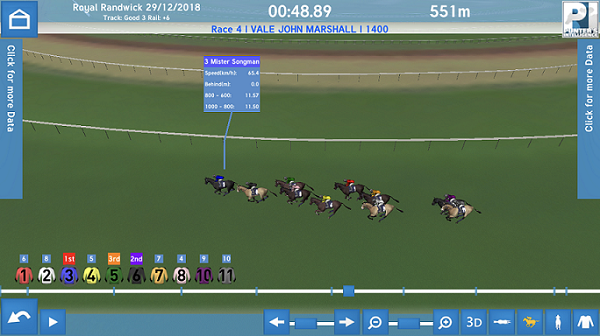 The Country Championships series kicks off in early February and Cameron Crockett has two worthy contenders in the shape of Ori On Fire and Andy's A Star who ran first and third in the Highway (1100m).
Ori On Fire contested the 2018 series and was unlucky not to make the final running third in the Mudgee heat and fourth in the Muswellbrook Wild Card.
The up and comer Andy's A Star was having just his sixth start and, while the track was producing quick times, a Highway runner clocking a 33.86 last 600m is worth taking note of.
He settled well back and was noticeably wayward around the 300m which adds merit to his race best last 600m.
Star mare Alizee looked to be doing it so easy in taking out the Christmas Classic (1200m) it's almost a surprise she ran 1:08.77 and a 33.07 final 600m.
It was a smart ride by Hugh Bowman too as he clicked Alizee into gear by running the fastest 800m-600m of 10.61 to put her into a striking position. She ran a sizzling 10.83 from the 400m-200m before clocking off when the race was won.
Stayer Berdibek ran right up to his excellent first-up performance with a narrow defeat to Tip Top over a mile. Only the winner (34.51) ran a faster last 600m than the grey (34.79) and that horse had his back all the way.
Berdibek did clock the best last 200m of 12.07.
It's worth highlighting the run of Sir Plush in holding fourth, in leading he ran 35 for the first 600m (just 0.23 slower than Mister Songman in his 1400m event).
Sir Plush finished the race with a last 600m of 35.70 so his effort to keep going was sound.
Fastest last 600m: Taniko 32.67
Punters Intelligence with Gerard Middleton, Brad Davidson and Brad Gray returns on Sky Thoroughbred Central in 2019.