A powerhouse on pace performance from Big Parade at Randwick on Saturday proved he's a horse that can charge through the grades now he's doing everything right.
The gelding atoned for a disappointing performance at the Kembla Grange 'The Gong' meeting, where he was unplaced as an odds-on favourite after going a bit hard in front, with a more measured passage in the Heineken Handicap (1200m) and it showed at the finish.
Punter's Intelligence sectional data illustrated how Josh Parr was able to harness Big Parade as the leader Oakfield Twilight set a solid speed with a first 600m of 35.11.
While Big Parade didn't post any race best sectionals he sustained his gallop running 11.17 (800m-600m) then 11.24 (600m-400m), 11.00 (400m-200m) and a last 200m of 11.44.
His last 600m was 33.68, the race's third best, and he did it all himself. Expect him to hold this form as he rises in grade.
The eye-catchers from behind Big Parade were third placed Poetic Charmer (33.49 last 600m) and fifth placed Yamazaki (33.54 last 600m).
Both horses are known for producing such sectionals, Poetic Charmer's first-up placing was achieved with a meeting best final 600m and he backed that up while Yamazaki hadn't raced for two months and her effort mirrored her fresh run 12 months ago before she headed north.
There were three 1400m events at Randwick and they couldn't have been run any differently.
In the Ranvet Handicap, Vitesse was able to find the lead again but clearly she didn't get things her own way this time. Her first 600m of 35.63 was solid as she had a bit of company to her outside.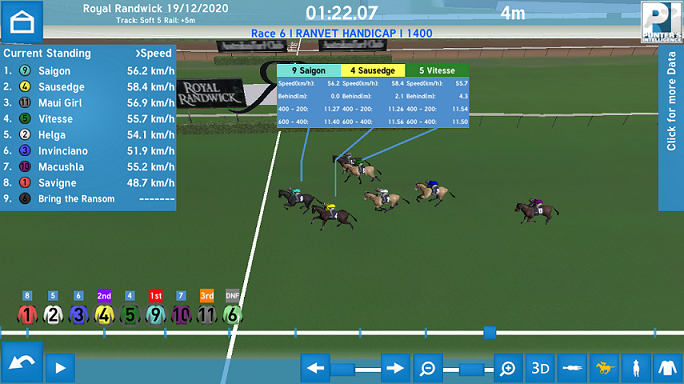 It allowed the likes of Saigon (34.64) and Sausedge (34.63) to charge down the outside with the latter producing clearly the race's best last 200m of 11.81.
The Bisley Workwear Handicap was run at a leisurely pace by comparison as Cradle Mountain ran a first 600m of 36.73, some seven lengths slower.
While he dropped out the remaining on pacers dominated and it's no surprise they didn't change position a lot given their similar sectionals – Edison ran 34.44, Hilo 34.43, Irithea 34.49 and Redouble 34.39.
The only horse out of the race to break 34 seconds was Intuition (33.98) who was last on the turn and finished his race off in seventh place.
The Schweppes Handicap was considerably more brutal looking at the slow final sectionals.
Arabian Hussey set a strong pace with the first 600m of 35.52, almost a length faster than Vitesse, but they stopped the clock some eight lengths slower than that earlier race.
The winner Bluff 'N' Bluster ran the fastest last 600m of that race, 35.63, and last 200m of 12.07.
The tempo was well and truly against the well supported favourite Fulmina in the Sky Racing Active Handicap (1600m) but she still managed to run the third fastest last 600m (33.96) and 200m (11.37) to say she can be forgiven.
But that said the run of Cisco Bay, who came from behind Fulmina, was one of a horse absolutely flying at present and who can pick up another race in town shortly.
He clocked a 33.54 last 600m, including a race best 10.73 from the 400m-200m, off the back of a very slow speed up front (Betcha Flying ran the first 600m in 37.96) and had covered an extra 14.1m by the finish.
Fastest last 600m: Sally's Day 33.05.
Watch Punter's Intelligence with Brad Davidson and Brad Gray at 7pm on Tuesday on Sky Thoroughbred Central.