A perfectly judged front-running ride, aided by a lack of serious pressure applied and a track playing fast, is very simply what won the Group 2 Villiers Stakes (1600m) for Greysful Glamour.
Punter's Intelligence sectional data shows Rachel King mastered the art of 'go fast enough to be left alone but not so fast as to bring yourself undone' as she ran through the first 600m in 35.87.
Compare that to the Drinkwise Mile run 40 minutes later where Mushaireb ran the first 600m in 35.66, or almost two lengths faster, while the overall time was a length faster in favour of the Villiers.
Greysful Glamour didn't run any mindblowing sectionals but was allowed to back things off gradually in the first half then use the race fitness from two starts at 2000m leading in to run them into the ground.
After running 11.89 from the 1000m-800m she stepped it up, 11.80 from the 800m-600m, 11.38 from the 600m-400m and 10.96 from the 400m-200m.
Only two other horses ran a slower last 200m than her 11.55 but the damage was already done.
Her last 600m of 33.89 was the second slowest of the race but she was still two lengths in front of the nearest chasers at the 200m and it was mathematically impossible to run her down.
That said third placed Criaderas and fourth placed Through The Cracks did a mighty job of trying. At the 600m they were about 22m and 18m respectively off the grey mare.
Criaderas produced the race's best last 600m of 32.69 and Through The Cracks next best with 32.95 so in Criaderas' case he ran around eight lengths faster than the winner but the problem was he was further than that behind her at the 600m point.
So huge efforts from that pair but both have a racing pattern not conducive to winning regularly when you're trying to run down Group class horses. Everything has to go their way.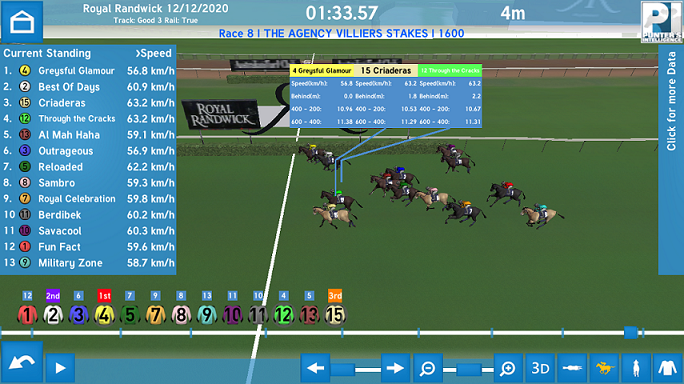 Inglis Nursery winner Acrobat was only a couple of lengths off Redzel's 1000m track record as he debuted in a blaze of glory in the $500,000 feature.
After sitting outside the leader he basically put the race away from the 400m-200m running 10.57 and his last 200m of 11.07 was almost a length faster than the next best. Not surprisingly his last 600m of 32.55 was easily the quickest and by a clear two lengths.
Behind him the run of Festival Dancer is worth noting. After turning last she made up good ground to run sixth clocking 32.89 for her last 600m.
Of the three 1000m races the Nursery was clearly the fastest but the opening TAB Highway is interesting to dissect.
The leader Affinty Beyond ran the first 400m in 22.64, over four lengths faster than the two-year-old race and nearly five lengths faster than the second of the Highway races.
She and co-on pacer Tikkitala both posted a scorching 9.90 from the 800m-600m so considering where the latter finished the run of Affinity Beyond was brave. The winner Remlaps Gem sailed home in 32.68 for her last 600m.
No fewer than 15 horses managed to break 33 seconds for their 600m at Randwick and two of those were by first-uppers Knickpoint and Travest in the Easternbuilt Handicap (1100m).
Knickpoint was last on the turn and produced the fastest last 600m of the meeting of 32.47 to run into fifth place, including a slick 400m-200m of 10.55.
It signalled he's in for a solid summer campaign and he can settle a bit closer in his races than we saw first-up.
Travest is definitely going to be better suited when he reaches 1400m or so, Knickpoint did comes from behind him but he ran 32.80 for his last 600m in a sound return.
Mention must go to the winner Salina Dreaming, she ran a 32.90 last 600m and her last 200m of 11.36 was second best behind Redoute's Image (11.33) so she wasn't exactly stopping.
Starla backed up her promising first-up run with another fast closing third in the Sydney Commercial Interiors Handicap (1200m) clocking 32.87, the race's second best behind the winner Snapdancer (32.80). Note she was coming back from a first-up run at 1300m so watch for a distance increase.
Fastest last 600m: Knickpoint 32.47
Watch Punter's Intelligence with Brad Davidson and Brad Gray at 7pm on Tuesday on Sky Thoroughbred Central.