It was a two-year-old race that most experts predicted would throw up a few promising youngsters and the Cellarbrations Handicap (1000m) at Kensington on Saturday didn't disappoint.
A quartet of youngsters chasing home the winner Macroura are well worth highlighting based on what the Punter's Intelligence sectional data tells us.
Newsreader was having her first start, and off just one barrier trial, for John O'Shea as she stormed into third place running 33.52 for her last 600m.
She ran 10.90 from the 600m-400m, 11.03 from the 400m-200m and then the fastest last 200m of 11.59.
The Joe Pride-trained Ballistic Lover was first-up since December and hit the strongly clocking a last 600m of 33.48 – she was also tightened up about 50m out which probably explains her last 200m of 11.66.
Private Agent impressed on debut at Wagga and he proved himself right up to city level with his eye-catching sixth placing, posting a last 600m of 33.45 after settling well back.
And Sancy, in seventh, ran the fastest last 600m of the day as she stormed home from last in 33.32.
The filly was slowly out, and tailed off four or five behind the pack, and ran the fastest 600m-400m of 10.61 and 400m-200m of 10.91 and while her last 200m of 11.80 was on the slower side the damage was done with her at the start and she was entitled to knock up.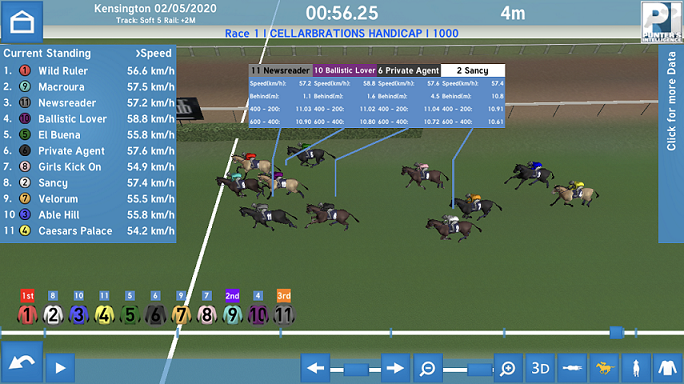 Fituese won the other 1000m event on the day, running just 0.44 faster than the two-year-olds and that suggests the form out of the juvenile race might well stack up.
The flying Witherspoon set up the faster time running 33.84 for the first 600m compared to Girls Kick On who led the youngsters in 34.22.
John Thompson's Fituese ran a last 600m of 33.45 and she was the quickest last 200m in her race of 11.52 which was a length faster than the next best in that race.
Arguably the win of the day came from Rocha Clock in the 1300m F&M Benchmark 78.
Rocha Clock wasn't far off Sancy's final 600m as she ran 33.40, about two lengths faster than the next best in her race.
The three-year-old clocked 11.42 from the 600m-400m then ran the fastest 400m-200m of 10.90 and final 200m of 11.08 – that sectional was a length and a half faster than the next best.
She's heading to the Inglis Guineas (1400m) at Rosehill on May 16 and on Saturday's performance will be very hard to beat.
Let's not undersell the run of So Taken in second place, the race panned out perfectly for her but just bumped into a filly who put in an exceptional effort.
So Taken ran 33.71 for her last 600m and that was about three lengths faster than the next best in the race.
Whether this was the peak race remains to be seen but if she can strike a softer track next start it might be her turn.
Phaistos played the ambusher role after being ambushed at his previous start and his sectional times were on the exceptional side compared to his rivals in the 1400m Benchmark 88.
The gelding's last 600m of 33.54 was almost six lengths faster than the next best in the race. He ran 10.95 from the 600m-400m (about two lengths faster), then 400m-200m of 11.15 and a last 200m of 11.44 over two lengths better than the others.
This might have been a supreme performance from Phaistos for this preparation but also an example of what he's capable of.
Trumbull bounced back to his best form with a close second to Hightail and he was responsible for the fastest last 600m of the race of 33.77.
Each sectional within that last 600m was clearly the race best and he also clocked the equal fastest 800m-600m of 11.29.
Fastest last 600m: Sancy 33.32
Most ground covered (to win): Wild About Her +6.4m
Watch Punter's Intelligence at 7pm on Tuesdays on Sky Thoroughbred Central.