There's a case to be made that several of the youngsters out of the $1m Golden Gift have stuck their hands up as potential Golden Slipper contenders with over four months still to play out.
While it's easy to pinpoint the placegetters it's fourth placed Cellsabeel that created plenty of interest after her fast finishing fourth in the 1100m two-year-old feature.
Punter's Intelligence sectional data shows the filly posted the race's best last 600m of 33.27 while not actually running a race best 200m split at any stage of the Golden Gift and she covered more ground than any other runner (+6.9m).
Cellsabeel settled well back in the field, alongside eventual runner-up See You Soon, and hooked wide on the turn. You could argue her 10.92 from the 400m-200m was as good if not better than See You Soon's 10.86 given she spent a chunk of that 200m section going sideways to get to the outside.
Importantly she sustained the run and posted 11.32 for the last 200m, second fastest of the race, and all done at her first race start.
The winner Dame Giselle had race experience and was able to use an inside draw to settle handy but she still did it on the clock as she ran 33.34 for the last 600m.
Her final 200m was the strongest of the race (11.21) as she put a margin on her rivals so nothing can be taken away from her heading towards the Slipper.
See You Soon, as mentioned, was back with Cellsabeel in the run as they conceded about 22m to the leader midrace.
She made her run through the field so covered more than 3m less than the fourth-placed filly, and was able to fully wind up as she ran that 10.86 to the 200m and an 11.40 for the final furlong along her last 600m of 33.28.
That trio of fillies are all worth remembering heading into the New Year and you can expect each, particularly Cellsabeel, to improve with the pre-Christmas campaign under their belts.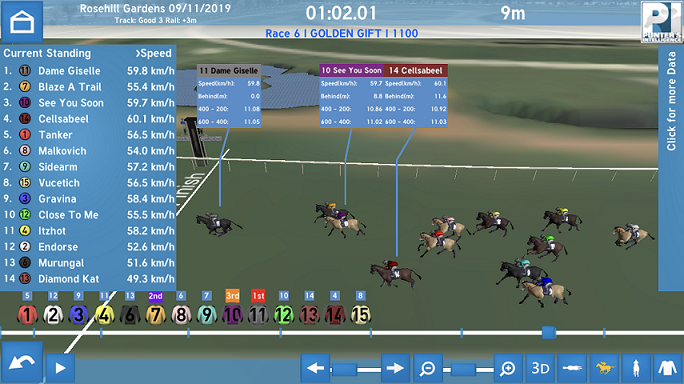 The Golden Gift compared favourably time wise to the other 1100m races on the program, even though they were benchmark races, as Dame Giselle (1:03.71) ran almost a length faster than Stephan (1:03.84) and over six lengths faster than Lucicello (1:04.90).
Where Lucicello stands is going to be interesting going forward – is she a short course sprinter or can she be effective at 1400m or so?
If her negative racing pattern to date is what suits her best she's always going to be at the whim of the speed but the six horse field played into her hands on Saturday in what was otherwise a very slowly run 1100m.
Lucicello clocked the day's best last 600m of 33.19, including 10.77 from the 400m-200m, or more than two lengths faster than her rivals, to run out a winner and she had to in order to overcome the tempo.
The first 500m was run in 31.14 which was more than seven lengths slower than the same sectional in the other 1100m races.
Stablemates Reelem In Ruby and Moss Trip clocked almost identical last 600m sections in the Group 2 Hot Danish Stakes (1400m) running 33.81 and 33.82 respectively which explains why the latter couldn't eat into the margin late.
Moss Trip was consistently about 4m behind Reelem In Ruby throughout the race so needed to sprint home around 0.3 seconds faster to make an impact.
Out of the Hot Danish the run of Luvaluva was eye-catching as she heads towards the $1m The Gong over 1600m at Kembla Grange on November 23.
The mare stayed at 1400m after a fast finishing second when resuming so the risk was there for her to outpaced and that's how it played out. But she posted an equal race best final 200m of 11.14 as she worked home late in 33.69 for her last 600m.
It might have been a TAB Highway that got away for Two Wrongs Dont looking back on his fast closing second over the 1500m.
After settling last the worst thing that could happen for Two Wrongs Dont was the field fanning on the turn but that's exactly what occurred and what makes his sectionals stand out.
He ran a last 600m of 35.25 which was two lengths faster than third placed Takissacod (35.60), who had her own hard luck story, and reeled off 11.49 from the 400m-200m and was the only horse to break 12 seconds home clocking 11.91.
Fastest last 600m: Lucicello 33.19
Most ground covered (to win): California Longbow +11.7m
Don't miss Punter's Intelligence at 7pm on Tuesday on Sky Thoroughbred Central.