By Brad Gray
At Rosehill Gardens
Not The Real Ronstar
Winona Costin suggested punters forget Ronstar went around at Rosehill Gardens on Saturday, after disappointing as favourite.
"He wasn't himself today," she said, "He was at the end of his prep and didn't sprint as good."
Costin was adamant that it wasn't the 1400m that pulled up the popular swayback either. In Costin's favour is the fact that the runner up Silent Explorer turned around a 4.7L margin on Ronstar from when they met at Rosehill on May 19.
On Silent Explorer, Keegan Lathan said, "I was very happy with his run today. He is a horse that is improving a lot. It was unfortunate the stablemate beat him but he travelled nicely, quickened nicely and although was still a bit green he is a horse that will get better."
Shinn Left Wondering About Gresham
Blake Shinn was left wondering where the Gresham was from last start after the three-year-old laboured late to run sixth.
"At the 300m I certainly didn't have the same confidence I had in him at his last run. I always felt something was going to get to me and they did," Shinn said.
Punters Intel reveals Greshem, after staying hard on the fence, did run a 11.03s from the 1200m to 1000m to hold out Intuition but backed off from there to still get his chance.
"The inside probably isn't the place to be, I'm not sure because its only race two, but he got pressured and was coming back in distance," said Shinn.
Sweet Victory was also hard in the market but Tim Clark suggested there were genuine excuses for the filly, who was coming back from the mile to 1400m.
"I think she wants further and might be better outside of horses," said Clark.
La Chica Bella Has An Engine
It turns out La Chica Bella swims exactly like she races.
"I've never had a horse that on her last lap in a pool actually go stronger," Joe Pride revealed about the four-year-old mare.
"She's got a few gears there and real stamina. Everything she does in her work at home (suggests that).
"Everything we do we her is absolutely on her terms. She is quite quirky. She doesn't want to be bustled at any point and a little bit like Destiny's Kiss – small body but a big engine."
It was a perfectly rated ride from leading apprentice Rachel King, who was instructed by Pride to ride her like a Gai Waterhouse-trained horse.
"Joe said once you get to the front just keep increasing it a little bit. She is a stayer in the making," King said, who managed to coax her through her flat customary spot.
La Chica Bella will likely next tackle an 1800m race at Rosehill Gardens in a fortnight while Kerrin McEvoy said race favourite So Splendid will appreciate further now herself.
Flow By Name And Nature
Flow. He is well named isn't he? There isn't really a Plan B when it comes to the free-rolling four-year-old.
Glyn Schofield rated Flow perfectly in the end after having to do some early work to wrestle the lead off Prometheus.
"He's a roller and that's the way he likes to run. When he quickened he quickened well. He found enough when challenged and he'll take a bit of improvement out of today," said Schofield.
The son of Street Cry can be "frisky" in the yard but he was well behaved on Saturday and if he can continue to curb his behavior Godolphin stable rep Darren Beadmen believes he could find himself in black type company once more, having run third in the G3 Sunshine Coast Guineas this time last year.
"If you can just harness that enthusiasm he has in the early stages he could go to that next level," said Beadman.
Five Favourites In One Race
Have you ever seen a race with five equal favourites? I can't remember seeing it.
As it turned out, Chatelard proved strongest at the end, adding win number four to his tally having won his first three race starts.
"He won three in a row and just got there too quickly," Chris Waller quipped.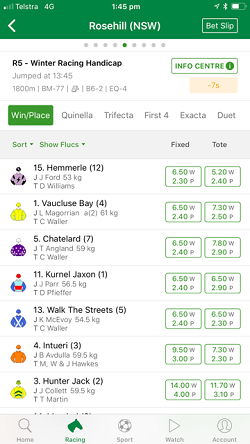 Check out all of the results and replays for Rosehill Gardens on Saturday.