All honours to Nature Strip for yet another demolition job in the Group 1 TJ Smith Stakes at Randwick and it was a win set up in the first half of the 1200m sprint.
The Punter's Intelligence sectional data showed Nature Strip ran his first 600m in a slick 34.92 and it was the section from the 1000m to the 800m where he established authority – and when he does that and settles he's close to unbeatable.
He ran 10.50, a length and a half faster than Vegadaze (10.74) and Redzel (10.79) who tried to stay with him, for that section and followed up with 11.12 from the 800m to the 600m before backing off.
While his last 600m of 36.18 was only seventh best, as is often the case, the damage was well and truly done.
Behind him there were a number of eye-catching efforts particularly with a view to a race like the Group 1 All Aged Stakes (1400m).
Runner-up Santa Ana Lane ran 35.36 for his last 600m, five lengths faster than Nature Strip, and Pierata clocked 35.52 so both are on target for the All Aged.
Where the likes of Tofane (last 600m of 35.24) and Bivouac, who ran the fastest last 600m of 35.05, head next remains to be seen but their efforts were outstanding after giving away huge starts.
Kindergarten Stakes winner Doubtland looks a very smart colt in the making and, with first use of the track, clocked the day's fastest last 600m of 34.67.
He was the only horse to break 35 for the last 600m, four lengths better than anything else, and ran 11.39 from the 600m-400m, then 11.26 from the 400m-200m and a final 200m of 12.02.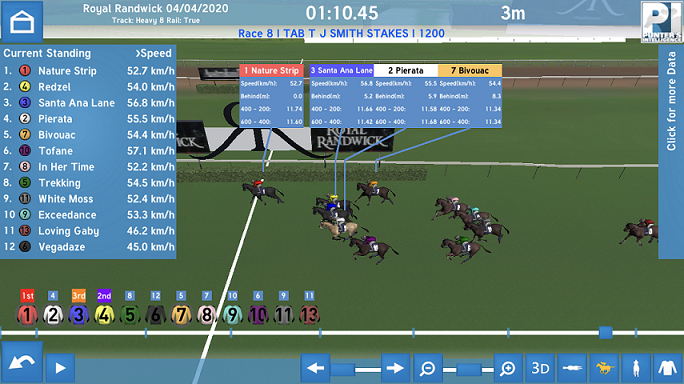 At the other end of the day Rubisaki posted the day's fastest last 200m of 11.97 as she raced away with the PJ Bell Stakes (1200m).
While her overall time was some nine lengths slower than Nature Strip over the same distance we're talking about mares company and Rubisaki had panels on them.
She ran 35.07 for her last 600m after settling near last early, that was three lengths faster than her rivals, and there'd be no reason the 1400m of the Group 3 James Carr on April 18 won't be right up her alley – especially if the rain sticks around.
The grey St Covet's Spirit produced a nice effort to run fifth, especially given she's a Benchmark 66 rater, and her 600m-400m of 11.67 was the best of the race while her last 600m of 35.68 was fourth best.
She was first-up so if she comes back in grade she's set up well to go close.
As far as the Star Doncaster Mile goes it's no surprise the backmarkers came into play after the first 600m was run in 35.86, only the TJ Smith featured a faster first 600m on the day!
The first five horses in the run over the first 600m were the last five home and that suited a big finisher like Nettoyer whose last 600m of 35.75 was two lengths faster than the next best, runner-up Star Of The Seas (36.07).
How Colette will stack up in Saturday's Group 1 Australian Oaks (2400m) is going to be very interesting after she assumed favouritism with an easy Adrian Knox win.
Unlike the so called 'B grade' Derby lead-up, the Tulloch Stakes, which has produced the last four Derby winners, the Adrian Knox isn't as reliable a guide.
However, the Godolphin filly could have a sense of timing about her. She ran the fastest last 600m of the Adrian Knox, as you'd expect, of 36.96 but she asserted her dominance over the last 400m, despite some ducking and weaving, and her last 200m of 12.34 was almost two lengths superior.
There was merit in the effort of Stick 'Em Up to run fifth, she posted the next best last 600m of 37.09, as she came from last.
Fastest last 600m: Doubtland 34.67
Most ground covered (to win): Quick Thinker +15.6m
Watch Punter's Intelligence at 7pm on Tuesdays on Sky Thoroughbred Central.