Nature Strip put the first 600m of the TAB Everest behind him in 33.81 seconds – that's around what you'd expect the last 600m of most 1200m races at Randwick to realise.
And in doing that he set up the track record now owned by TAB Everest winner Yes Yes Yes.
There's so much to take out of the fastest 1200m race ever run at Randwick through Punter's Intelligence sectional data and Nature Strip is the starting point.
The speedster looked to be hold together well by Tim Clark but he was still flying as he clocked 20.63 between the 1000m and 600m before he finally had a small breather.
While he gave a big sight he could never win the race going that speed early, he eased a bit to 11.10 and was able to surge again running 10.97 from the 400m-200m before he punctured late with an 11.64 last 200m.
A herculean effort to finish fourth considering only four other horses ran a slower last 600m than his 33.71.
Yes Yes Yes might have had a nice run with cover back off the speed but he still covered an extra 5.8m in the run and only one horse ventured over more ground.
His last 600m of 32.61 was only the third fastest but the crucial point was the 400m-200m where he sprinted sharply in 10.51, the quickest of the race, to assume control.
The runner-up Santa Ana Lane produced the fastest last 200m of 11.04, over a length faster than Yes Yes Yes, but couldn't make up the ground after some traffic issues while the colt was at full pelt.
Santa has run 32.53 for his last 600m and he was just shaded for the best of the race by third placed Trekking in 32.52.
Trekking wasn't responsible for any fastest furlong in the race but he was never far off it, his last 200m of 11.14 just half a length slower than Santa Ana Lane.
Of the others, Classique Legend to the eye had a hard luck story so he could very well have managed faster than his 33.23 last 600m.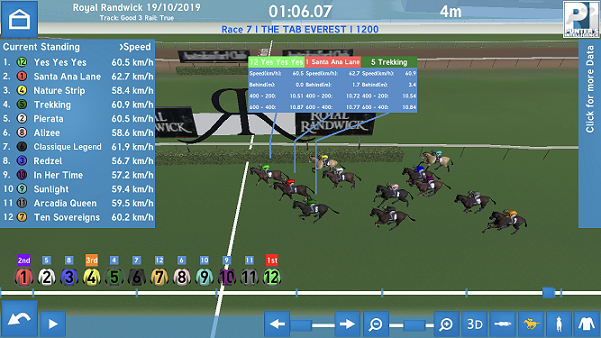 He was tracking similarly to Yes Yes Yes on times until the 400m where he was held up for runs and managed only 10.96 from the 400m-200m while Yes Yes Yes, who came from behind him, was able to go over 2-1/2 lengths quicker.
Classique Legend shapes as one of the horses to beat in the $7.5m Golden Eagle (1500m) on Saturday week.
The TAB Everest had been overshadowed, time wise, by the Group 3 Sydney Stakes (1200m) in its history to date but not this time around.
The Sydney Stakes was run some eight lengths slower than the Everest with the leader Home Of The Brave setting a more casual tempo.
He ran the first 600m in 35.19 so they were entitled to sprint home and that allowed Deprive to post the day's fastest final 600m of 32.42 as he kept his unbeaten Randwick record intact.
Deprive was also the only horse all day to break 11 seconds for the last 200m as he ran 10.99.
Interestingly, The Kosciuszko (1200m) was run in faster time than the Sydney Stakes to the score of about 2-1/2 lengths and it's the run of Bobbing that's worth attention.
At the 500m mark Bobbing was about 20m off the lead and on the inside. His last 600m was easily the best of the race in 32.58 by almost two lengths and his final 200m of 11.01 obviously just a click off the fastest of the day.
We know Bobbing isn't a 1200m horse so it bodes well for him for the spring ahead.
A few other horses to keep an eye on out of TAB Everest day:"
- Two-year-old Gravana's last 600m of 33.46 was two lengths faster than any other in the Victory Vein (1000m) while Tommy Gold might have knocked up but he ran 10.92 for the fastest 400m-200m so shapes as a likely improver.
- The Listed Reginald Allen (1400m) might have been the one that got away from Betcha Flying and the 400m-200m section where she was held up proved costly. She posted the fastest last 200m of 11.35 and last 600m of 33.65.
Fastest last 600m: Deprive 32.42
Most ground covered (to win): Happy Clapper +7.4m.
Don't miss Punter's Intelligence at 7pm on Tuesday on Sky Thoroughbred Central.