What can we say about Classique Legend's sizzling TAB Everest win that hasn't already been said?
Not only did he demolish a very smart field of sprinters he's run eight lengths (at least) faster than the other 1200m races on the day, of course aided by a hectic early pace, and produced the quickest last 600m of the meeting (33.30).
Punter's Intelligence sectional data shows the first 600m of the TAB Everest was run in 33.41, almost 12 lengths faster than the Sydney Stakes (35.26) and six lengths faster than the Kosciuszko (34.39), as Eduardo took charge in front.
At the 500m, Classique Legend was just on 28m off the lead and that was the biggest margin of the race but from there he went up a notch and ran 10.65 from the 400m-200m to hit the lead and his last 200m of 11.64 was the third best in the race.
It was clearly a supreme performance.
There's still plenty of life in Santa Ana Lane, it must be said, after his sixth placing. As usual he settled out the back but ran 10.97 from the 600m-400m and the race's fastest last 200m of 11.50 for a 33.35 final 600m.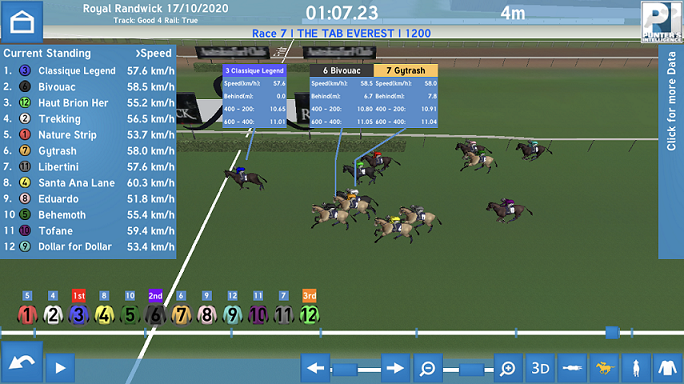 Standout had something of a hard luck story in the Group 3 Sydney Stakes but in running a close second to Trumbull he showed he's back on track.
He ran a race best 33.97 final 600m and his last 200m of 11.58 was almost a length faster than the next best Deprive (11.70).
It was a clear return to form and he won't be out of place in the Yes Yes Yes Stakes (1300m) at Rosehill on October 31, especially with Classique Legend leaving our shores.
All honours in The Kosciuszko to the winner It's Me who overcame traffic to post the fastest last 600m of the race in 34.22 and easily the best last 200m of 11.73 (no other horse broke 12 seconds).
She's clearly a talent but it's a bittersweet win as she's pulled up with a tendon injury, adding merit to the win, so she'll be out of action for a while.
Out of the Kosciuszko it's worth following Anethole, who ran ninth but the clock suggests it was a handy effort. He ran 34.45 for his last 600m and clocked the fastest 600m-200m (22.38).
His last 200m dropped off a bit, suggesting perhaps he needed the run but he can drop sharply in class out of this race and win.
If there's one horse to follow from TAB Everest day it's Purple Sector, who had panels on his rivals in The Star Mile (1600m).
He was the only horse to break 34 seconds for the last 600m in the race, running 33.53, he ran 10.87 from the 400m-200m and his last 200m of 11.32 was two lengths faster than the next best.
What's ahead for him? So long as the tracks stay dry he can be a force in races like the Rosehill Gold Cup (2000m) and The Gong (1600m) in the next month.
It was a dominant debut performance in the Victory Vein Plate (1000m) from the Snowden-trained Captivant, particularly over the last 200m where he ran 11.35 or a length faster than the next best.
Behind him, though, a pair of Godolphin youngsters are worth looking at.
Bacchanalia made his run through the pace from near the tail to finish fourth, clocking 33.65, while Testimonial had to swing wide from last and she clocked 33.58 for the last 600m running into sixth.
Fastest last 600m: Classique Legend 33.30
Most ground covered (to win): Purple Sector +11.5m
Watch Punter's Intelligence with Ben Way, Brad Davidson and Brad Gray at 7pm on Tuesdays on Sky Thoroughbred Central.