It's hard to know where her limit is yet but Fituese enhanced her reputation as one of the most exciting fillies in training with another dynamic win at Rosehill.
While fast times were the order of the day, Punter's Intelligence sectional data reveals of the three 1100m features it was the Denise's Joy won by Fituese that was clearly the superior.
And with it her performance in winning stood out.
Fituese ran 1:02.56 or just under a length faster than Dirty Work's 1:02.69 in the Ortensia while the two-year-olds in the Woodlands Stakes, won by Macroura, were six lengths slower at 1:03.50.
The edge for Fituese was also evident in the first section of the race with Monetizing running the first 500m in 28.92, compared to Villami (Ortensia) in 29.83 and Bellevue Star (Woodlands) in 29.41.
Fituese clocked the fastest last 600m of the Denise's Joy running 32.99 and she was the only horse there to break 11 seconds for the last 200m (10.99).
There was merit in the runner-up Aquitaine and she shouldn't be undersold going forward, she's was first-up and had to work early. She actually ran the fastest 800m-600m of 10.88 but she blew out late and her last 200m of 11.28 was almost two lengths slower than the winner.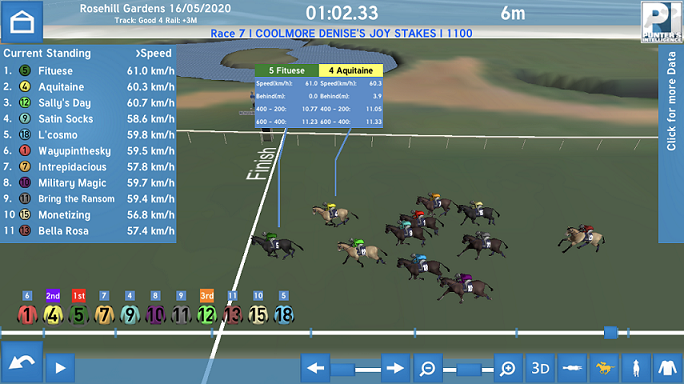 The slower early section in the Ortensia provided for a very slick dash home and while Dirty Work had panels on them late the run of Prophet's Thumb in fifth is worth looking at.
She settled near last and posted the meeting's fastest last 600m of 32.40 while she and Dirty Work both ran a 400m-200m in 10.49 and a last 200m in 10.90.
There has to be a win ahead for Trumbull if his campaign continues after a slashing 32.45 final 600m in the Luskin Star Stakes (1300m).
A slow start cost him dearly and he found himself some 23m off the lead in the early stages.
He was the only horse in the race to break 11 seconds for each of the final three 200m splits, that 32.45 was made up of 10.86 (600m-400m), 10.62 (400m-200m) and 10.97 (last 200m).
Trumbull is still eligible for Benchmark 88 races so, if he can get his act together at the start, he's able to step back in class in coming weeks.
It'll be interesting to see what Jason Coyle does with Air To Air after she narrowly missed second in the Inglis Guineas (1400m) and posted easily the race's standout sectionals.
The filly ran 33.17 for her last 600m, best by almost a length, and was also fastest from the 1000m-800m (11.88) and 800m-600m (11.62) as she worked into the race behind her more established rivals.
Dawn Passage controlled the race from outside the leader and from where he was a last 600m of 33.38 was more than fast enough to get him home.
Other runs of note:
Lord Desanimaux (TAB Highway) ran a race best last 600m of 33.39 as he ran into fifth, his final 200m of 11.37 almost a length quicker than his rivals.
Romani Girl (Dark Jewel) couldn't be missed storming home down the outside first-up in a last 600m of 33.58, again almost a length faster.
Fastest last 600m: Prophet's Thumb 32.40
Most ground covered (to win): Ranier +7.9m
Watch Punter's Intelligence with Ben Way, Brad Davidson and Brad Gray at 7pm on Tuesdays on Sky Thoroughbred Central.