It's easy to get carried away with a backmarker's explosive finish but it was two on-pace winners at Rosehill on Saturday who showed potential for better things to come.
They are, of course, the three-year-olds Ellsberg and The Elanora and their form already mixes from last month's Spring Stakes at Newcastle.
Ellsberg led all the way to win the Precise Air Handicap (1500m), it was a typically brilliant front-running ride from Tim Clark who took control early and completely wrote his own destiny.
Punter's Intelligence sectional data showed while Ellsberg clocked the fastest splits in the first half of the race they weren't on the hectic side – he ran 11.74 from the 1200m-1000m and was then allowed to back it off to 12.21 from the 1000m-800m yet still be easily the fastest.
From there it was game, set and match. Ellsberg dashed home in 34.10 for the last 600m which was the second fastest of the race behind Toscanini (34.00) who came from last on the turn to run third.
Before we get too carried away with Toscanini, Ellsberg ran 11.16 from the 400m-200m vs Toscanini 11.11 and a last 200m of 11.66 vs 11.60 so it's not like Ellsberg was stopping.
To The Elanora and it was another pearler in the saddle, this time by James McDonald that guided the Spring Stakes winner to victory in the De Bortoli Wines Handicap (1800m).
He required a little early work, the 1600m-1400m of 11.92 was the race best, to find a position but once he slotted in he was able to reel off an 11.15 from the 400m-200m to hit the lead and his last 200m of 11.57 was 0.08 outside the fastest clocked by Dhakuri (11.49).
That horse also posted the race's best last 600m of 34.19, and he's definitely a horse to follow, while The Elanora was next on 34.27.
We'll be hearing a lot more about Ellsberg and The Elanora in the coming months.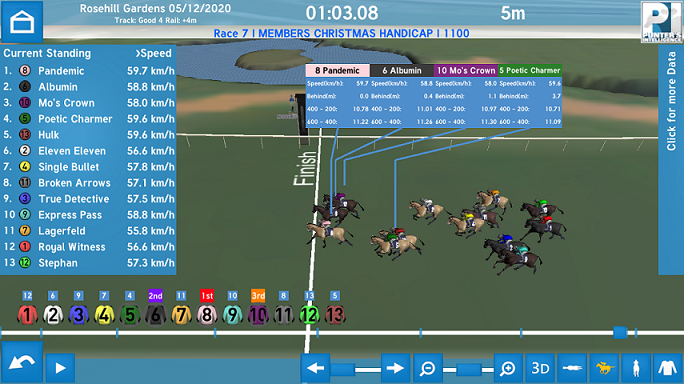 Summer is shaping up well for the consistent Poetic Charmer who was outstanding coming from last in the Members Christmas Handicap (1100m) into fourth clocking the fastest last 600m of the meeting of 32.95.
That was well over a length faster than the winner Pandemic (33.17) and the gelding also posted the meeting's fastest last 200m of 11.15.
Poetic Charmer hasn't won below 1200m in his career so it's no surprise he found the 1100m just a shade short. Watch out he doesn't win a race second or third-up.
The race promises to be a handy one going forward from a form perspective. Hulk continued his good form running 33.27 for his last 600m, third placed Mo's Crown led them up and held on running 33.86 while the grey Albumin clocked 33.51 in his first-up second.
A slow start didn't help the cause of Sausedge in the Quincy Seltzer Handicap (1350m) but she roared home along the inside to post a race best last 600m of 33.77 as she ran into third.
She was the only horse to break 11 seconds between the 400m and 200m (10.92).
St Covet's Spirit yet again hit the line, her cause wasn't helped by having to go back from an outside gate, running 33.96 for her last 600m, the only other horse to break 34 in the race.
A promising return from Maui Girl in the Rosehill Bowling Club Handicap (1200m) shouldn't go unnoticed. She settled last and clocked a 33.27 last 600m, nearly two lengths faster than any rival.
Her best form is up to a mile so she should improve as the distances increase.
Fastest last 600m: Poetic Charmer 32.95
Most ground covered (to win): The Elanora +13.9m.
Watch Punter's Intelligence with Brad Davidson and Brad Gray at 7pm on Tuesday on Sky Thoroughbred Central.