Whether star colt Anders is given his chance in a TAB Everest remains to be seen but after another display of sheer speed his presence would certainly shake up October's $15m feature.
The Group 3 San Domenico Stakes (1100m) was a one horse race for the most part and Anders stopped the clock just outside course record time running 1:02.67, more than two lengths faster than the lesser class race over the same trip.
Punter's Intelligence sectional data showed Anders sizzled early running 28.29 for the first 500m (29.43 in the other 1100m race) and was just under two lengths faster than his five rivals between the 1000m and 800m and the 800m-600m as he opened up a winning margin.
While his last 600m of 33.74 was two lengths slower than the race's best it's not like he was stopping.
That race best was clocked by Mamaragan who ran 33.30 and was responsible for the fastest splits from the 600m. His 400m-200m of 10.96 was outstanding in the context of the race, he was the only horse to break 11 seconds for that section.
We know he's come back in great order and he'll only get better as he steps out in distance.
The same can be said for Peltzer who had to do all the chasing behind Anders but he certainly didn't crack, he ran a 33.61 last 600m and should lose no admirers heading towards a Golden Rose.
The question mark from the race hangs over Doubtland who beat one home and, most worryingly, was quite weak over the last 200m. He ran 12.02 which is a six length drop off from the 400m-200m split which was an even 11.12.
He was unbeaten prior to the San Domenico so is worth another chance and we'll find out more about him then.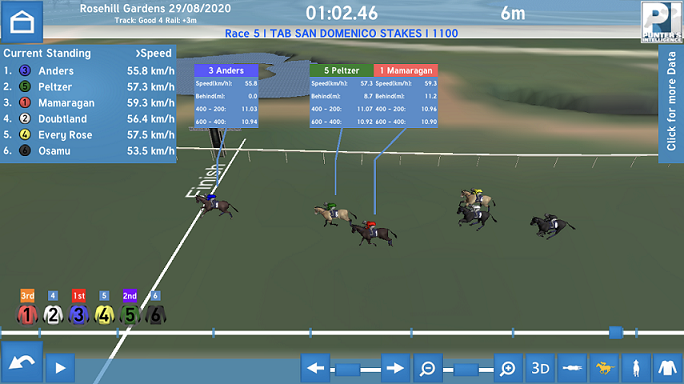 The other 1100m event for the Benchmark horses was won by Prime Star and this race produced the day's fastest last 600m of 32.98 run by Destination in second place.
He also ran the race's fastest last 200m of 11.14.
One of the eye-catchers came from Kosciuszko hopeful Plonka who hit the line into fourth place running 33.06 for his last 600m and his last 200m of 11.16 reads well against the best of the race.
There were plenty of nice runs in the Everest Carnival On Sale Handicap (1500m) and none more than She's Ideel who came from last to run fifth behind a moderate early tempo.
She clocked a 33.59 last 600m and also a race best last 200m of 11.21 as she wound up late and set herself up well for the campaign as the distances increase.
Stablemates Vegas Jewel and Saigon both clocked 33.62 for their last 600m, the former is an ex-Victorian who was first-up and has more upside while the latter has been going through the grades well during winter.
Overlord posted the fastest last 600m of the Group 3 Ming Dynasty (1400m) running 33.26 but his habit of blowing the start could see him stay a maiden longer than his talent suggests he should.
He ran a race best 800m-600m of 11.98 and a 10.83 from the 400m-200m so he was playing plenty of catch up in the run.
If the tracks stay dry there could be a race for Girl Tuesday who was excellent late behind Mugatoo in the Premier's Cup (1900m) as she posted the race's fastest last 600m of 33.20 and last 200m of 11.13 (about a length faster than anything else).
That effort backed up a promising placing in the Rowley Mile at Hawkesbury.
The Ranvet Handicap (1200m) was a one horse race pretty much from the start as Prime Candidate led all the way but behind him there were a few of note.
Nudge produced an excellent first-up effort running third and posting the fastest last 600m of 33.13 while stablemate Subpoenaed clocked 33.24 though was a little weaker late.
Back in the field Tenley was responsible for the fastest last 200m of the day running 10.94 (she finished eighth) and a last 600m of 33.21 so that says she's come back well.
Fastest last 600m: Destination 32.98
Most ground covered (to win): Mugatoo +11.5m.
Watch Punter's Intelligence at 7pm on Tuesdays on Sky Thoroughbred Central.