He's no stranger to a supreme first-up performance and Roheryn did it again at Rosehill on Saturday with a visually appealing win that stacked up on the clock.
Punter's Intelligence sectional data showed the Godolphin galloper posted the fastest last 600m of the day, and by quite a margin, running 33.89 in winning the De Bortoli Wines Handicap (1100m).
From where Roheryn was coming to the turn he needed to reel off some impressive sectionals and he ran the 400m-200m in 11.09 (just outside the best of the day) and a last 200m of 11.36 (also just outside the day's best).
He was some 13m off the lead at the 300m and that last 200m was three lengths faster than the next best which was runner-up Sandbar (11.85).
So far Roheryn has proven indestructible first-up so it'll be interesting to see if he can reproduce that kind of effort again this time in. If he can then he'll graduate to stakes company quickly.
It'd be worth staying with Embracer after he ran third behind Roheryn at his first run back.
After finding the lead he overdid it a bit in the early stage running 10.79 (over a length faster than the next best) so it was no surprise his final 200m was quite slow (12.22) given he sustained a run between the 800m and 200m clocking 34.14 (11.46, 11.44, 11.24).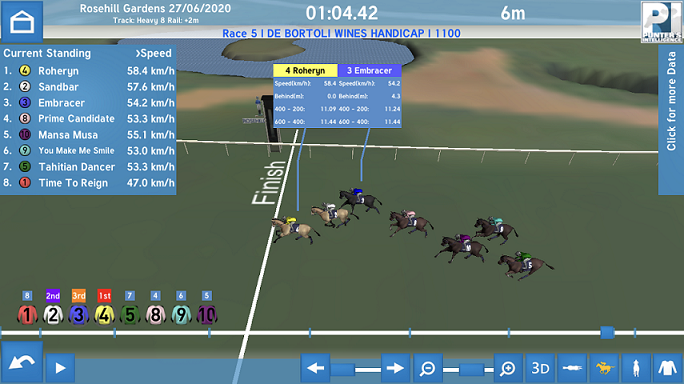 On the Godolphin theme Kordia also produced a big fresh effort in winning at his first run for over a year in the Hyland EOFY Sale Handicap (1200m).
He was 20m off the lead at the 600m then charged home in 34.07 which included the fastest 400m-200m of 11.03 and his last 200m of 11.62.
Kordia was a stakes winner at 1400m last year so there's upside distance wise and if he can do it again second-up there's a bright future for him.
Mark Newnham has a smart filly on his hands in the shape of Fulmina who was dominant in the Rosehill Bowling Club Handicap (1800m).
Her last 600m of 34.10 in the 1800m event compares well with Kordia's over 1200m and that was three lengths faster than the next best Itz Lily (34.63).
What highlights the win of Fulmina even more is the fact she ran 11.28 from the 400m-200m and backed it up with 11.33 which was the fastest last 200m of the meeting.
It was a comprehensive win, she covered an extra 11.9m and while the likes of Zing raced wide throughout that filly only covered an extra 13.1m and her last 600m was 35.24 so even though she had no cover she was weaker late.
A few horses from the Chris Waller yard performed strongly in unsuitable races so keep an eye out for these in the coming weeks.
Both Order Again and Sambro had to come back from 1600m last start into the Listed Civic Stakes (1350m).
Order Again posted the fastest last 600m of the race (34.43) in finishing second, at his second run for Waller, behind Trumbull while Sambro wasn't far behind running 34.47 including the race's fastest last 200m of 11.74.
New Arrangement was back from 1800m in the TAB Long May We Play Handicap (1500m) and he caught the eye running into third from last on the turn with the fastest last 200m of the race (12.02) and the second fastest last 600m (35.54).
It's safe to say Monegal backed up that upset first-up win by finishing second in the same race and she was responsible for the fastest last 600m of 35.44, plus she was the only horse in the race to break 12 seconds for each sectional between the 800m and 200m.
And in the opening race, the Alabama Express @ Yulong Handicap (1400m), the run of Academy in second place is worth noting – he ran a race best final 600m of 34.80 and the fastest last 200m of 11.88 so he's just about ready to win in town.
Fastest last 600m: Roheryn 33.89
Most ground covered (to win): Sweet Thomas +17.8m
Watch Punter's Intelligence with Ben Way, Brad Davidson and Brad Gray at 7pm on Tuesdays on Sky Thoroughbred Central.