How far would Our Candidate have won by had he been forced to circle the field instead of hugging the rails?
The Punter's Intelligence sectional data shows the import ran his last 600m in 34.68 in the 2400m staying event and that was 1.31 seconds, some eight lengths or so, faster than any other in the race.
The official winning margin was four and a half lengths so it's an interesting question.
Sure, he had all the breaks with the field getting off the fence allowing Brenton Avdulla to steal some ground but he sprinted like a short courser.
He ran 11.24 from the 600m-400m, over three lengths faster than his rivals, his 400m-200m in 11.33 (better by close to four lengths) and the last 200m in 12.11 was a length quicker.
It was a comprehensive performance from a stayer on the way up and it'll be interesting to see how far he goes into the spring given he's now had five starts since resuming in April.
Another horse we should be seeing plenty of in the new season is the grey filly Lucicello.
Aside from her individual performance, comparing her win to that of three-year-old Stella Sea Sun over the same 1200m trip is an illustration of just how impressive the youngster was.
Stella Sea Sun's overall time was almost a second slower than Lucicello and her last 600m was over two lengths slower than the two-year-old despite the comparably leisurely tempo.
Lucicello ran her last 600m in 33.22, five lengths faster than any other in her race, and she was simply dominant coming from last. She ran the 400m-200m in 10.85, no other in the race broke 11 and she was still almost two lengths superior in her last 200m of 11.06.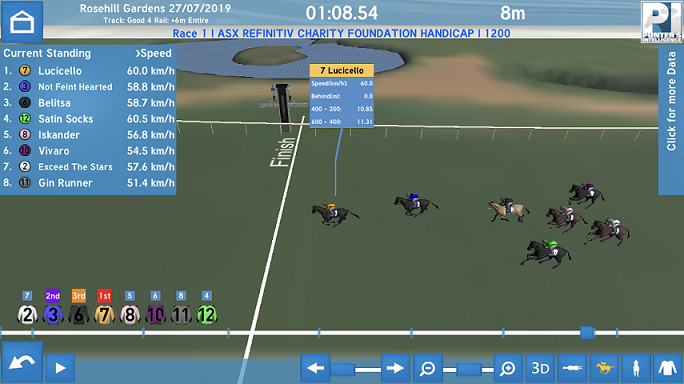 She's come a long way in a short time and a performance like hers says she can be a force in the spring and/or autumn depending on which path Chris Waller takes.
There are a couple of Godolphin horses absolutely flying at the moment.
Gaulois proved he's not just a wet tracker with his slashing fourth in the Listed Winter Challenge (1500m), coming from last at the 600m and running the fastest last 600m of 33.58.
From the 400m to the 200m he sprinted in 10.87 and again had the best last 200m of 11.10.
Out of the Winter Challenge, Salsonic again put in a teasing performance running 33.83 for his last 600m and 11.14 for his final 200m to be close up behind the placegetters.
The other Godolphin charge to note is Taniko who backed up her win at Randwick a week earlier with a best of the day final 600m of 32.47 in running third behind Bon Amis.
A last 200m of 10.69 was also the best of the day, she's definitely a dry track horse and if the rain stays away she can win again.
It's not often you see a Gai Waterhouse/Adrian Bott horse out the back in their races but that was the case with Wimlah who caught the eye running fifth behind Ligulate.
The winner ran 33.51 for his last 600m but Wimlah wasn't far off clocking 33.57 and she was responsible for the best last 200m of 11.15 so her effort was sound.
An import from the Chris Waller stable called Agosto is worth noting out of his first-up win over 1500m at Kembla Grange last Thursday.
While he only had four rivals he was vulnerable to being outsprinted, but he showed he could sprint pretty well running 34.17 for his last 600m while his final 200m of 11.47 was over two
lengths faster than any other as he mowed them down.
Fastest last 600m: Taniko 32.47
Most ground covered (to win): Pat's Nipper +9.4m.
Don't miss Punter's Intelligence with Gerard Middleton, Brad Davidson and Brad Gray at 7pm on Tuesdays on Sky Thoroughbred Central.