Exciting import Mugatoo gave a taste of spring with his stellar return in taking out the Listed Winter Challenge (1500m) at Rosehill on Saturday.
And, not surprisingly, Punter's Intelligence sectional data backs up his dominance over a distance that, by rights, should be a bit short of his best.
Mugatoo put together the fastest 200m splits for the last 800m of the race.
He ran his 800m-600m in 11.39, then picked it up with 11.24 from the 600m-400m and again running 11.16, one length faster than anything else, from the 400m-200m before a final 200m of 11.67.
That's quite a sustained effort and his last 600m of 34.07 was over three lengths faster than the next best.
Obviously the bar is set higher this time in but Mugatoo won second-up in his first Australian prep at 1800m before taking out the Canberra Cup at 2000m. We're not likely to see him again for three to four weeks so where Kris Lees points him next will tell us more about what the spring goal may be.
Out of the Winter Challenge the run of Girl Tuesday had plenty of merit, in ground that she's not particularly comfortable in.
She ran the second fastest last 600m of 34.61 and made most of that run close to the inside fence where few horses ventured by that stage of the day.
If she can strike firmer ground as spring arrives there might be a stakes race in her against the mares at least.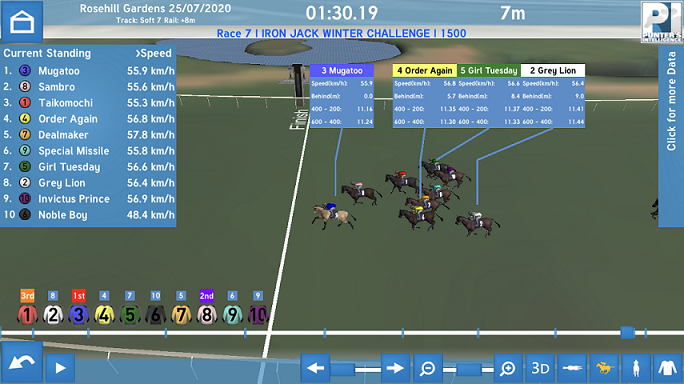 While it was hard to miss the finish, with the best of the day last 600m, by Roheryn in the July Sprint (1100m) don't undersell the performance of the winner Eduardo, having his first run for Joe Pride.
Roheryn clocked 33.27 but was given every opportunity to produce that sprint, which took him to a spectacular first-up victory, whereas Eduardo did all the work and still held him off.
Eduardo worked very hard to try to cross Star Boy but Nash Rawiller had to back off and take the sit. He ran his first 300m in 18.54 and couldn't find the front so for him to be able to sprint in 11.09 from the 400m-200m was a huge performance.
His last 600m of 34.06 was some five lengths slower than the winner but more significantly his last 200m of 11.58 compares pretty well being only a length and a half slower.
Dancing Gidget was a strong winner of the TAB Handicap (1400m), continuing her rise through the grades, running a race best 34.18 for her last 600m.
But what to make of Travest? After an eye-catching run against the tempo at his previous start plenty was expected of him and his fifth placing wasn't so bad in hindsight.
The first 600m was run in 37.17, Travest actually ran the fastest 1000m-800m (12.17) and from that point the race changed complexion quickly when Frosty Rocks took off to the front and the tempo increased by almost six lengths.
That put Travest back in the pack and while Dancing Gidget sailed down the outside he made his run back on in the inside of the field and his last 600m of 34.66 was the second fastest in the race.
So he may be worth forgiving.
A few others runs of note:
He's A Hotshot showed sharp improvement third-up running 33.93 for his last 600m and 11.60 for his last 200m, both clearly the race best, in the Rosehill Bowling Club Handicap (1100m).
Jay Jay D'Ar lost momentum inside the last 200m when making her run in the Xtravagant At Newhaven Park Sprint (1200m) but still clocked the fastest splits of 34.50 for her last 600m and 11.80 last 200m.
Import New King produced a handy first-up run, at a trip well short of his best, in the Everest Carnival On Sale Handicap (1300m), his last 600m was 35.06 (just a couple of lengths short of the race best) and he was given a very easy last 100m or so once he secured seventh place.
Fastest last 600m: Roheryn 33.27.
Most ground covered (to win): Mugatoo +8.9m
Watch Punter's Intelligence at 7pm on Tuesdays on Sky Thoroughbred Central.