The jury was out on The Autumn Sun prior to his return in the Hobartville Stakes but there's no other way to describe that return than sensational.
The Autumn Sun was conceding the leader, and eventual runner-up, Vegadaze about 12m and was hemmed in on the fence at the 800m so needed to produce something special to win.
Punter's Intelligence data shows Vegadaze didn't really overdo it early, the first 600m was run in 38.12 and he was able to sprint home better than anything else outside the boom colt.
But The Autumn Sun is just another level – his last 600m of 33.93 was a tick under 0.6 faster than Vegadaze so while the margin wasn't great he had to produce a big sprint to pick him up.
A breakdown of his last 600m shows he ran 11.38 (600m-400m), 11.11 (400m-200m) then 11.44 last 200m which wasn't far off the best of the day (set in shorter races).
There's no doubt he's back at least as good as ever and can only improve up in distance.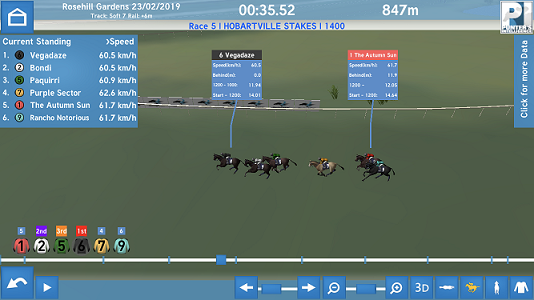 The sectionals out of the Group 2 Silver Slipper Stakes (1100m) make for fascinating reading.
If you were wondering why Tassort couldn't pick up the winner Time To Reign after following him into the straight the answer is simple – they ran almost identical last 600m splits.
The major difference came in the first 100m – Time To Reign was reasonably fast into stride running 7.49 while Tassort was 0.4 seconds slower. From there the two colts couldn't be split.
Time To Reign – 7.49, 10.53, 11.18, 11.54, 11.47 and 12.14 (last 600m 35.15).
Tassort – 7.89, 10.54, 11.16, 11.53, 11.47 and 12.14 (last 600m 35.14).
It'll be interesting to see what happens when they clash again in the Todman Stakes two weeks out from the Golden Slipper.
The placegetters in the Group 2 Millie Fox Stakes will have all eyes on them heading to the Group 1 Coolmore Classic on March 16 – both I Am Serious and Savatiano had serious flashing lights on.
I Am Serious ran the fastest last 200m of 11.43 and the third fastest last 600m of 34.29 (note she was held up for a period in the straight) so her first-up effort was strong.
Savatiano produced the best last 600m of the race of 34.08, she was quickest from the 400m-200m (10.91) and she covered more ground (by 2.4m) than the runner-up.
A couple of others to highlight:
Star Of The Seas was 1000m-1350m and bumped into the smart Archedemus but he clocked the fastes last 200m of the race in 11.78.
Prophet's Thumb attacked the line hard in the Spark Of Life Handicap running 33.94 for her last 600m.
The Country Championships Qualifier at Albury was won comprehensively by Bennelong Dancer, she covered an extra 9.1m and put the race away from the 400m.
Her 400m-200m of 11.41 was clearly the best for the race and her last 200m of 12.01 was over 0.2 better than anything else for a 35.01 final 600m.
Fastest last 600m: Bandipur 33.43.
Most ground covered (to win): White Moss +7.4m.
Don't miss Punter's Intelligence with Gerard Middleton, Brad Davidson and Brad Gray at 7pm Tuesday on Sky Thoroughbred Central.