There's no doubt Nicconita would be a worthy contender for the Goulburn heat of the Country Championships but her racing style is an issue.
The mare produced yet another sizzling finish to her race in the Highway (1400m) at Rosehill after conceding the lead (and runner-up) 30m early on and over 21m on the home turn.
Punters Intelligence data recorded her last 600m in 34.58 and she produced the fastest split for three of the last four 200m sections including 11.66 for the last 200m, quickest by 0.07. All not bad numbers for the Highway grade.
Nicconita has won two from 13 with six second placings and while the wide barrier contributed to her giving away so much start she's a serial offender in that respect and if she's to make the Goulburn Qualifier field she may need to win another race before March 2.
Exciting colt Accession easily had the measure of the two-year-olds in the opening race but how does his win stack up to the older horses on the same day?
It's always a good measuring stick and in Accession's case his times were inferior to another 1100m race won by Alassio.
Accession carried 59.5kg and ran 1:04.54 while Alassio, with 58kg, stopped the close at 1:03.75.
Giselle Anne led the two-year-old race in 30.43 for the first 500m, Witherspoon went out in 29.90 for her first 500m so not only were the mares faster overall they moved along faster early as well.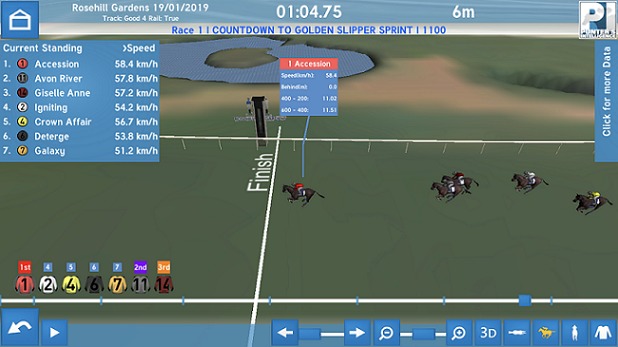 The final 600m for Accession was 33.80 and he ran a last 200m of 11.27; Alassio's last 600m was 33.18 and she ran 11.30 for her last 200m.
Overall you'd say the colt has done a fairly decent job in a slowly run race.
Out of Alassio's race the run of fourth-placed Charlayne is worth a mention. She's fast closing on D-Day after three runs back but this was an improved showing as she clocked the fastest last 600m of the race in 33.07.
She also broke 11 seconds for the 600m-400m (10.82) and 400m-200m (10.85).
The Avenger served notice that he's in for a good prep after an eye-catching first-up fourth behind All Too Royal over 1200m, a race the winner dictated with a first 600m of 36.21.
All Too Royal sprinted home in 34.23 while The Avenger ran the fastest last 600m of 33.54 including the fastest 600m-400m (11.09) and final 200m (11.46).
His second-up record is only fair but once he gets a couple of runs under his belt and reaches the 1400m-1600m race he's always competitive.
The defeat of Ljungberg after a wide run over 1300m is worth a look and, take nothing away from the winner Vegadaze, his effort was still excellent.
The first 500m was quite slow in 32.09 meaning the race was always going to be a sprint home and Ljunbgerg was simply outsprinted. It didn't help that he covered an extra 11.4m in the run.
He showed class in sticking to his guns and he was one of the strongest last running 33.18 for his last 600m. Total forgive run.
A mention to the stayer Zourhea who ran the fastest last 600m of 33.10 in the Ljungberg race, it was a bunched field throughout but she couldn't have run any better first-up.
Fastest last 600m: Bon Amis 32.87
Most ground covered (to win): A Snip Of Cyndy +9.6m
Don't miss Punters Intelligence with Gerard Middleton, Brad Davidson and Brad Gray from 7.30pm on Sky Thoroughbred Central on Tuesday.