There's no doubt Remarque lived up to the hype with his debut win at Rosehill on Saturday but what do the times tell us about his Golden Slipper prospects?
Punter's Intelligence sectional data paints an interesting picture about how the boom colt stacked up alongside the other two races over 1100m.
Remarque won the Agency Real Estate Handicap (1100m) in an overall time of 1:04.64; in the following race Tailleur took out the Sky Racing Active Handicap (BM88 1100m) in 1:03.59 (over six lengths faster) while later in the day Lillemor clocked 1:03.58 in winning the Iron Jack Handicap (F&M BM78 1100m).
The first 500m sectional shows us Tailleur's race was quite a test as they ran 29.56 compared to Remarque's 29.75 while Lillemor had a picnic running 30.25 for the early split.
It's not necessarily a major negative if two-year-olds, who were mostly on debut, are around a second slower than the more seasoned horses and Remarque did have to do some early work to settle outside the leader.
He ran 10.46 between the 1000m and 800m, half a length faster than anything else, and he was clearly very green as he ran out in the home straight but still managed the race's equal best last 200m of 11.67. It was a promising start to his Slipper campaign.
If there's a small concern, his last 600m of 34.73 was the meeting's second slowest winning time for that sectional behind Harpo Marx who ran 34.95 as he went on to win the 2000m event.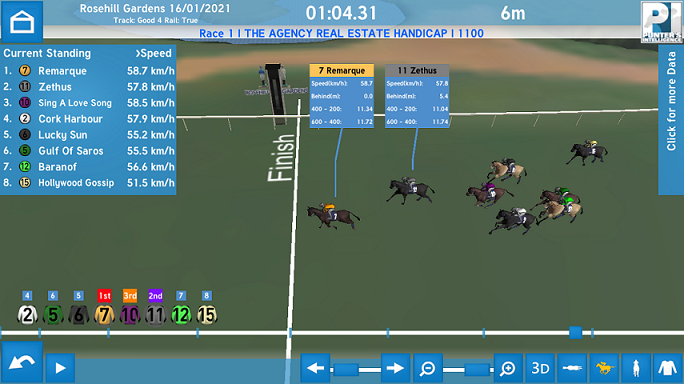 While all eyes were on Remarque, the runner-up Zethus made a very nice debut in his own right.
After settling second last, he hit the line better than anything running 34.49 for his last 600m and showed a superb turn of foot between the 400m and 200m clocking 11.04 (two lengths faster than Remarque).
As Tailleur continued her rise through the grades there was no shortage of interesting performances behind her.
Third placed Academy showed he's in for another strong preparation as he chased Tailleur home running a 33.71 last 600m, second only to the winner's 33.42, and 1100m races are certainly not in his comfort zone.
And it's a similar story for Cristal Breeze, while he ran last he's not really a short courser and he was only warming up with a 33.99 last 600m.
It'd be worth forgiving The Bopper for his unplaced effort though he did puncture a little more than you'd like to see. Granted he ran 10.47 from the 1000m-800m to get up onto the speed but his last 600m of 34.57 was the race's second slowest.
Behind Lillemor in the later 1100m event, Never Talk can be marked up for her performance despite finishing fifth. She blew the start and that was the end of her under the circumstances of the race which was a sprint home.
She ran 33.04 for her last 600m and a 10.96 for her last 200m, fastest of the day, so her effort still had a heap of merit.
Starspangled Rodeo signalled he's going to win races this summer with a slashing first-up fifth in the Schweppes Handicap (1200m) where he was taken back to last from a wide gate in a race run at an even tempo at best.
He posted the meeting's fastest last 600m of 32.83 and ran 10.99, equal with Charretera, for the last 200m.
We know he can settle closer in his races and is effective over a little more ground so this was a promising return.
Shaik was a beaten favourite in the Ranvet Handicap (1300m) but she was another victim of the early speed and the day's prevalence of fast closing sectionals.
She ran a last 600m of 33.13 but posted the fastest split from the 600m-400m (10.84) and 400m-200m (10.82) so she hasn't disappointed from that perspective.
Fastest last 600m: Starspangled Rodeo 32.83
Most ground covered (to win): Banger +10.7m
Watch Punter's Intelligence with Brad Davidson and Brad Gray at 7pm on Tuesday on Sky Thoroughbred Central.