It's that time when the attention swings towards the two-year-olds, with just two months to the $5 million Longines Golden Slipper, and while Sweet Ride was a runaway winner at Rosehill on Saturday it might be worth paying attention to those chasing him home.
Annabel Neasham provided three of the first four in the Davali Handicap (1100m) and take nothing away from the winner but if you had to pick one to follow it'd be Smart Vengeance, who charged home into fourth.
Punter's Intelligence sectional data shows Smart Vengeance clocked 35.36 for his last 600m, the third fastest of the race, but it was his last 200m of 11.89 after being held up early in the straight and being forced wide that stood out.
The race was only moderately run, the first 500m of 30.78 was 2.5 lengths slower than the race won by Mr Mosaic and five lengths slower than Forzanini's race over the same distance. If you compare the first 700m those margins increase to eight and nine lengths respectively.
So it adds plenty of merit to Smart Vengeance's effort.
The placegetters appear to have improvement in them based on their relatively slow last 200m splits. Northern Beaches, a $1 million yearling, ran 35.29 for his last 600m but his last 200m of 12.11 says he knocked up after looming.
The same can be said for Flashing Steel, also from the Neasham yard, who clocked the fastest last 600m of 35.16. He was also fastest from the 400m-200m of 11.22 then ran a 12.07 for his final 200m. Again he may have felt the pinch from the sprint home.
Whether these youngsters are the A-graders remains to be seen but the quartet were all on debut so there's no telling what steps they could take.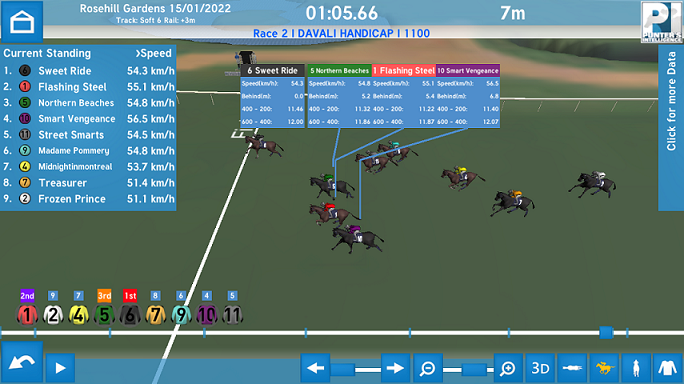 Key Largo took his record this prep to three seconds, and an unlucky fifth, from four starts with a slashing effort in the Rosehill Bowling Club Handicap (1200m) and surely it says his turn isn't far away.
While it appears on paper he did his usual thing of settle back and run on, his performance to get as close as he did to the winner Ranges was better than it looked.
This race was a sit and sprint. The first 600m was run in 36.23 which was 3.5 lengths slower than the Midway run over the same trip earlier in the meeting. By overall time, they finished up 1.5 lengths faster than the Midway.
A last 600m of 34.02 by Key Largo was two lengths faster than anything else in the race and his last 200m of 11.66 was a length quicker. He's racing at the top of his game and as soon as the breaks go his way he'll break through.
The run by Perigord in the same race had some merit, despite his ninth placing. After blowing the start he was last around the turn but ran 34.33 (third best) for his last 600m and would likely have improvement given his last 200m of 12.07 was significantly slower than the 400m-200m (11.14).
Out of the Midway, the first-up run by Eyewitness to finish third was gutsy.
After leading and running them along she was still in front at the 50m despite shortening stride significantly in the run home, her last 600m was 35.76 (over a second slower than the winner Crosscheck) and last 200m of 12.22 was the race's third slowest.
So expect her to strip fitter and while she was the first leader to taste defeat on the program she's run a very cheeky race.
Monegal's sectionals in winning the ACY Securities Handicap (1500m) are worth mentioning for the fact she was able to sustain a 1000m sprint to score.
She was equal fastest from the 1000m-800m (12.41) then Sam Clipperton started his sweeping run around them with 11.91 (800m-600m), 11.48 (600m-400m), 11.45 (400m-200m) and 11.77 last 200m.
Those last two sectionals weren't race best, but not far off, and she posted the race's overall last 600m of 34.70 while making that long run.
Irish Angel gets another mention for once again clocking a race best last 600m of 33.67 in finishing third in the Ned Whisky Handicap (1100m) but as has occurred in her past three starts she had to give too much start on a firming surface.
Fastest last 600m: Dream Circle 33.42
Watch Punter's Intelligence at 7pm on Tuesdays on Sky Thoroughbred Central.