It's been a masterstroke by trainer Brad Widdup to turn Adelong into a stalker and that ability to conserve a bit of energy is evident at the end her races as we saw again at Rosehill on Saturday.
In making it six wins from eight starts, Punter's Intelligence sectional data shows the mare was as strong as anything on the line running the equal fastest last 200m of 11.99 in the Catanachs Sprint (1100m).
Adelong ran a last 600m of 34.81, which was second only to the runner-up Inanup, who we'll get to shortly, and she has a rare ability to sustain a run while riding the speed.
She clocked 11.22 from the 800m-600m, then backed off slightly 11.44 (600m-400m) then picked up again with 11.38 (400m-200m) before that last 200m of 11.99.
The margin was dominant and there's no reason she won't be competitive in better races when she returns from a short break.
In comparison to the other 1100m race on the day, the opener for the two-year-olds, Adelong ran 1:04.97 while Lady Banff won in 1:05.84 so there's about six lengths difference and the youngsters had first use of the track.
The two-year-olds found the going pretty tough in the second half of their race, after going out two lengths faster in the first 500m (29.63 vs 30.00), so they have a bit of developing to do.
To the run of Inanup, who clocked a slick last 600m of 34.59 in chasing home Adelong.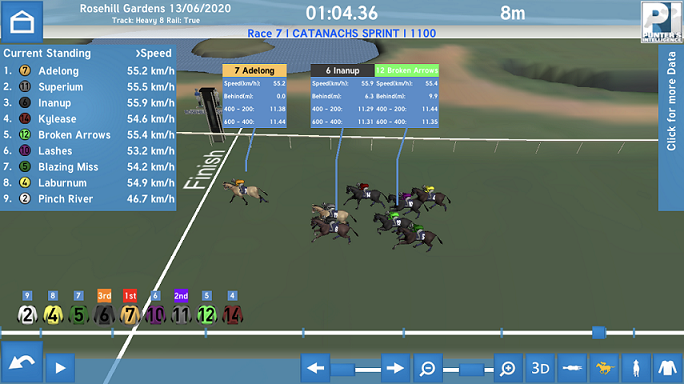 While the winner was riding the speed he was back last and forced to loop the field to make his bid and he made a decent fist of it.
He ran 11.31 from the 600m-400m then 11.29 from the 400m-200m, both clearly the race's best, before a last 200m of 11.99.
It's worth noting he has the ability to settle closer in his races from kinder draws that he had on Saturday and he's also won second-up at his past two campaigns.
Also out of that race Broken Arrows didn't have a lot of luck in the straight so to run 34.90 for his last 600m was a sound effort.
Another hard luck story for Trumbull in the Iron Jack Handicap (1300m) and yet again he posts the fastest last 600m his race, running 34.70, as well as the fastest last 200m of 11.89.
It's that middle split where his problems had an effect as he was checked on two occasions, he still ran 11.59 which was fourth best in the race, but this was another one that got away.
Sure Knee hit the line strongly late after being outsprinted early in the straight, she was coming back to 1300m so was going to be susceptible to that. Her last 600m of 34.98 was third best in the race and watch for her going back up in trip.
There should be some form coming out of the De Bortoli Wines Handicap (1800m) which was won impressively by Attention Run.
So powerful was her finish she ran 11.96 for her last 200m and that was just under two lengths faster than the next best Mongolian Wolf (12.22).
Her last 600m wasn't quite as dominant, she ran 35.36 and there were several others in that ball park suggesting there are a few horses to follow here.
Across Dubai ran 35.38 in third, Frankely Awesome showed improvement in sixth running 35.49 and Mongolian Wolf came from last to run sixth in 35.46.
And Matowi wasn't disgraced in fifth with 35.60, worth noting he ran the fastest 400m-200m of 11.59 before knocking up slightly so he should be ready to go third-up.
A couple more to note, Outback Diva was dynamic in winning the Rosehill Bowling Club Handicap (1200m) – her last 600m of 34.52 was a clear standout – and Handspun didn't have the best of luck in the Sky Racing Active Handicap (1300m) and her 35.09 last 600m is better than it reads.
Fastest last 600m: Carzoff 34.45
Most ground covered (to win): Monegal +11.4m
Watch Punter's Intelligence with Ben Way, Brad Davidson and Brad Gray at 7pm on Tuesdays on Sky Thoroughbred Central.