Rothfire announced himself in Sydney and into the TAB Everest picture in no uncertain terms with a near track record win in Saturday's Group 2 Run To The Rose (1200m), a race with plenty of points of interest to come out of it.
After riding the speed Rothfire stopped the clock at 1:08.52 and still posted the second fastest last 600m of 33.46.
Punter's Intelligence sectional data showed runner-up Ole Kirk recorded easily the best last 600m of 32.84 (also the day's best), almost four lengths faster than the winner, and last 200m of 11.29 (nearly two lengths quicker).
All the post race attention was, rightly, on the effort of Farnan who opened up a huge midrace lead and tired badly but in looking at his early splits it's easy to see why.
Farnan's first 600m was 34.26, well over four lengths faster than the next best of his six rivals, and had nothing left at the end running a 34.83 last 600m or about 12 lengths slower than Ole Kirk's race best split.
Before we go into a comparison with the Sheraco over 1200m it's worth noting other runners.
North Pacific acquitted himself well coming back in distance running a 33.48 last 600m, that time was matched by last placed King's Legacy suggesting his effort was a pass mark.
King's Legacy ran the second fastest last 200m of 11.51.
The three-year-olds stopped the clock in the Run To The Rose half a second faster, or about three lengths, than the mares in the Sheraco over the same trip.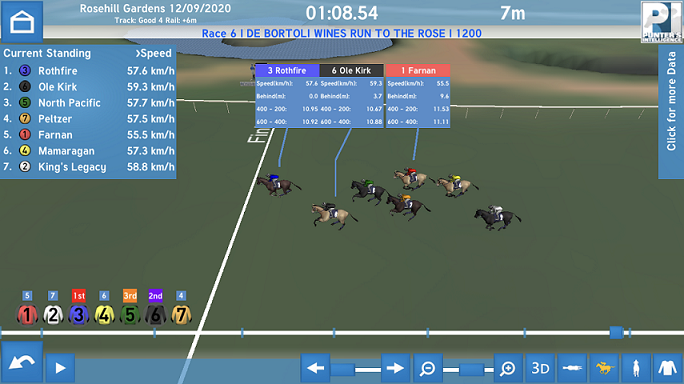 What the Sheraco can tell us about how fast the three-year-olds went early is interesting.
Sweet Deal led the Sheraco, with the winner Haut Brion Her sitting outside, in 34.57 for her first 600m which was about two lengths slower than Farnan.
But their first 400m splits were just 0.03 apart so the mares were able to back it off a little better because Farnan opened the gap to 0.31 for the first 600m and 0.54 for the first 800m.
The only section of the Sheraco where the leaders 'burned' was the 1000m-800m as Sweet Deal ran 10.05 and Haut Brion Her ran 10.25 (Farnan clocked 10.34 for that section).
It was a tough win by Haut Brion Her, first-up for almost a year, and the four lengths difference between her 400m-200m and last 200m suggests she'll be open to a bit of improvement.
The fastest last 600m of the Sheraco went to Subpoenaed (33.21) but it's fair to say that she's done that plenty of times already.
Fourth placed Evalina (33.41) and tenth placed Flit (33.41) were next best.
One of the star performers of the day was unbeaten colt Mo'unga and he was so dominant he could have races like the Gloaming and Spring Champion Stakes at his mercy.
Mo'unga won the Dulcify Quality (1500m) by a comfortable margin to the eye but sectionally his last 600m of 34.20 was over four lengths faster than the next best and his last 200m of 11.49 was almost two lengths faster.
He was responsible for the fastest sections from the 1000m-800m, 600m-400m, 400m-200m and last 200m so it was a comprehensive win from an exciting horse.
She's Ideel put her hand up as a coming winner with a closing third in the Cleanaway Handicap (1800m) running the race's second best last 600m of 33.51.
But it'll be interesting to see if she clashes with Yonkers at her next appearance but his sixth placing was a lot better than it looks. He clocked the fastest last 600m of 33.36 and last 200m of 11.09 after turning last.
Masked Crusader covered an extra 9.2m in the run in his third placing in the Vale Rick Worthington Handicap (1100m) and was still able to run a 33.63 last 600m.
The winner Fituese had his back on the home turn and was able to sweep home in 33.33, running the fastest last 200m of 11.04, covering an extra 6.8m.
The race best last 600m went to Hilo who ran 33.25 and it's safe to say all three are well worth following.
Fastest last 600m: Ole Kirk 32.84
Watch Punter's Intelligence with Ben Way, Brad Davidson and Brad Gray at 7pm on Tuesdays on Sky Thoroughbred Central.