Fast times were the order of the day at Randwick on Saturday and none went faster than TAB Everest contender Pierata as he rocketed into contention for next month's $14m race.
The small caveat on the times out of Randwick is they are wind assisted but there were plenty of standout performances.
Punter's Intelligence sectional data from the Group 3 Concorde Stakes (1000m) shows Pierata sailed home from last in 31.61 for the last 600m, a time virtually unheard of previously.
Pierata did have a conservative first 400m, running 24.62 (compared to the winner Redzel's 23.88), so there was something in the tank for a finishing burst.
He clocked 10.52 (600m-400m), a sizzling 10.32 (400m-200m) and came home in 10.77 which was 1-1/2 lengths quicker than any other in the race.
Amazingly, all six horses in the Concorde broke 33 seconds for their last 600m.
Redzel proved he is still in the mix for a third TAB Everest by taking his third Concorde and he did it with a level of control.
He established his lead running 13.21 for the first 200m, he then ran 10.67, backed off to 10.80 then ramped up from the 400m-200m in 10.42 and he still ran the third fastest last 200m of 11.10.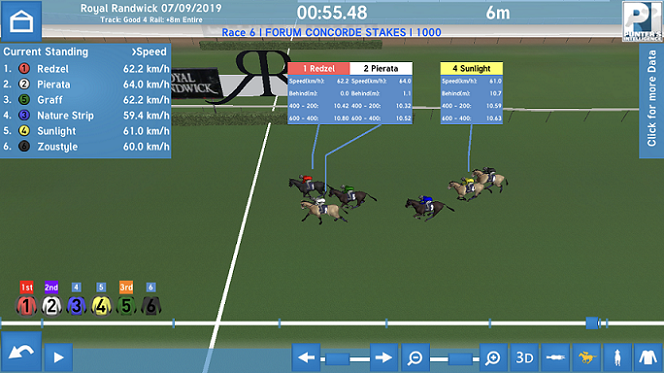 All eyes were on the boom filly Libertini in the Group 2 Furious Stakes (1200m) and while on face value her win wasn't as impressive as many expected it was still a classy performance.
When compared to the Benchmark 78 1200m event won by Baller, Libertini's win can't really be knocked.
The race won by Baller's first 600m was 35.76 while Villami carved out the same portion of the Furious in 35.87 (just under a length slower).
The overall times by comparison were significant as Baller ran 1:10.08 to Libertini's 1:09.22 or some five lengths slower than the fillies (so a six length turnaround).
Libertini's last 600m of 32.86 wasn't the fastest overall in her race, though she was the strongest late with the quickest final 400m, that went to Let It Pour with 32.81.
Avilius had plenty of work to do in the Group 2 Chelmsford Stakes (1600m) and his effort to run second was huge given the pattern of the day.
He covered more ground than those in the finish travelling an extra 12m yet he still produced 33.64 for his final 600m.
He ran the fastest 1000m-800m (12.15), 800m-600m (11.89) and 600m-400m (11.07) so the effort had to tell on him late. Given that he was brave in holding onto second.
The eye-catcher behind him was the staying mare Youngstar's flashing finish, she held the fastest last 600m with 33.19 including a slick 10.81 between the 400m and 200m.
Out of the Group 2 Tramway Stakes (1400m) the focus was on the boom Kiwi Te Akau Shark and he didn't let the side down despite being unable to catch Dreamforce.
He conceded some 17m at the 800m and charged home in 33.35 for his last 600m so he's on track for the Epsom, as is the fourth placed Star Of The Seas.
The Chris Waller-trained galloper ran 33.43 and he covered an extra 7.1m in the run as he tracked wide throughout then made his move with Te Akau Shark. Don't undersell him going forward.
Another Waller charge to stand out was Dealmaker, who ran fourth in the final event over 1500m.
At the 800m, Dealmaker was 28m off the lead and he worked his way home in 33.50, the fastest of the race, with splits of 11.29, 10.85 and 11.36.
That was his second eye-catching performance this time in so he's just about ready.
Fastest last 600m: Pierata 31.61
Most ground covered (to win): Articus +9.7m
Don't miss Punter's Intelligence with Gerard Middleton, Brad Davidson and Brad Gray at 7pm Tuesdays on Sky Thoroughbred Central.