Farnan and Dame Giselle laid out their claims for the $3.5m Longines Golden Slipper on Saturday week with impressive performances in the Todman and Reisling Stakes but did the runners-up in those races stand out even more?
The colts and geldings were clearly superior on the clock with Farnan running 1:09.86 for the 1200m, more than four lengths faster than Dame Giselle's 1:10.56.
Adding merit to the Todman was the fact the boys ran 0.08 seconds faster than Fasika did to win the Wenona Girl over 1200m with first use of the Randwick track.
Punter's Intelligence sectional data, though, shows it was Tagaloa who had the flashing light on among the youngsters.
The Blue Diamond winner posted the fastest last 600m of 33.40, more than two lengths quicker than Farnan (33.73), as he closed strongly on the all the way winner.
In the fillies division, See You Soon posted a race best 34.51 for her last 600m with her final 200m of 12.04 being over a length faster than Dame Giselle (12.23).
The fillies ran 35.55 for the first 600m with Supreme Idea out in front, three lengths faster than Farnan's first 600m of 36.05 so the seven length turnaround by the finish shows it was tough going in the Reisling late.
Nature Strip proved too slick for his rivals in the Challenge Stakes (1000m) on Saturday and it was in the early stages that he showed why he's so lethal.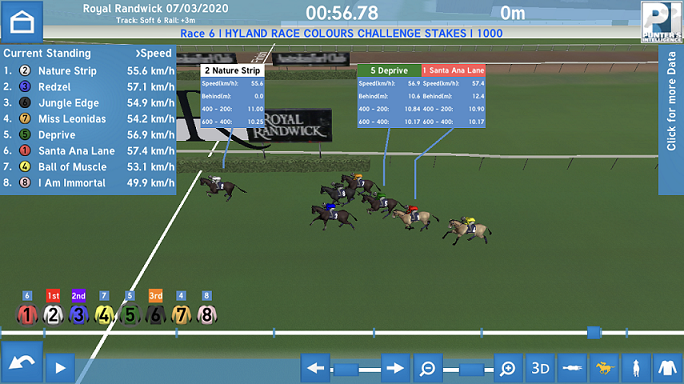 The gelding clocked 10 seconds for the section from the 800m to the 600m, that's Black Caviar-like, and was still able to run 33.44 for the final 600m to score comfortably.
Back in the pack were two horses totally unsuited by the tempo and way the track seemed to be playing and became detached from the field but the clock showed they charged home – namely Deprive and Santa Ana Lane.
Deprive ran a tick outside the day's best last 600m running 33.05, he was quickest for the final three 200m splits, but was just run off his feet early.
Santa Ana Lane wasn't expected to win at 1000m first-up but he was expected to perform something like what we saw at Randwick as he ran 33.15 for his last 600m and was just outsprinted by Deprive over the last 400m by 0.1 seconds.
He's set up nicely to be a force in the Group 1 TJ Smith Stakes (1200m) in a month.
Cosmic Force showed he's ready to repeat his heroics from last spring when he beat Standout and Microphone second-up from a spell with his slashing resumption in the Fireball (1100m).
With the winner Villami leading and controlling things in front, she managed a fairly cheap 600m-400m of 10.71, it was always going to be tough for Cosmic Force to run her down but he made a good fist of it running 33.09 for his last 600m.
His last 200m of 11.66 was a clear two lengths faster than Villami's and says he's back in good order. His second-up win in the spring was on a good track but he's even more effective when he strikes soft or heavy ground.
Randwick Guineas winner Shadow Hero is going to be very hard to beat come the Rosehill Guineas after his dominant performance, despite the narrow nature of the win, in the Group 1 classic.
Shadow Hero ran 33.73 for his last 600m to snatch the win, one of only two horses to break 34 seconds, and an 11.67 final 200m which was also clearly the race best.
The other horse to get underneath 34 was The Holy One (33.87) in running sixth while Warning, in finishing just ahead of him, did enough in a race that was probably always going to be the flat one as he ran 34.27 but his last 200m of 11.80 shapes him up well for the 2000m next time.
Castelvecchio may have had excuses with the tempo and potential pattern but you expect him to be strongest at the finish of his races so he can do better than a last 600m of 34.42 and final 200m of 12.02.
Granted he made a midrace move so perhaps he's worth forgiving and judge him on what he does in the Rosehill Guineas.
Interestingly, the Aspiration Quality over the same trip as the Randwick Guineas was run almost a second faster so while Nettoyer had the platform to run on her effort to pick up so much ground late is still amazing.
At the 400m she was about 22m off the leader Irithea and by the 200m she was still 12m away.
She was the only horse in the race to break 35 for the last 600m (34.49) and her last 200m of 12.14 was more than three lengths faster than anything else in the race and almost five lengths faster than Irithea.
Fastest last 600m: I Am Excited 33.04
Most ground covered (to win): Nettoyer +4.8m
Watch Punter's Intelligence with Dave Stanley, Brad Davidson and Brad Gray at 7pm on Tuesdays on Sky Thoroughbred Central.