It's often in defeat you find out how good a horse is and perhaps that was the case with promising colt True Detective at Randwick on Saturday.
The Punter's Intelligence sectional data from the meeting, particularly looking at the four 1200m races, paints an interesting picture of the three-year-old's performance despite being narrowly beaten.
Of the four 1200m events the NSW Trainers Association Handicap, for three and four-year-olds, was run in the slowest time and that was set up by a very slow first 600m run by Lifetime Quest who crawled along in 36.85.
The other leaders over the same trip clocked the following – Down To Earth 35.59, Caccini 34.87 and Isorich 36.29.
So for True Detective to win he was going to have to sprint hard and have everything go right.
As it happened he was slowly out then ran 33.82 for his last 600m which was a length faster than the winner Misteed (33.99) but the difference was probably in the extra 2.7m he covered by having to swing wide on the turn.
He surged his last 200m in 11.46, the best of the race, and in defeat showed he's a good chaser, after appearing to be a waiter, and that he should excel at 1400m.
The win by Mandela also showed he's a strong chaser and after being tardy early and he had to reel off the best splits for each of the final four 200m sections, and overcome interference from inside, to win.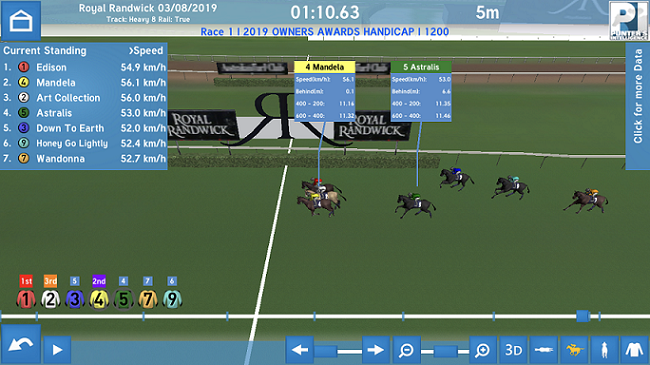 His last 600m was 34.63, over three lengths faster than anything else in the race, and he was particularly strong from the 400m to 200m in 11.16.
It's worth noting that fourth placed Astralis, who copped a decent squeeze when the interference occurred around the 200m, was tracking along well compared to Mandela.
He ran the 600m-400m in 11.46 (0.14 behind Mandela) and 400m-200m in 11.35 (0.19) but was stopped in his tracks so his final 200m of 12.61 is misleading and that should be remembered going forward.
So to the win of Roheryn and as mentioned the time in his race, from the first 600m perspective, was also slow so he had to sprint home after being another not the best away.
The four-year-old was responsible for the fastest 200m sectionals in five of the six blocks with his last 600m coming in at 34.52.
It was a solid return especially considering he looked to have some upside fitness wise.
The run of Improvement rightly captured some attention and had she not been badly held up she would have clocked the fastest last 200m of the race.
She ran 11.72 to Roheryn's 11.71, and a last 600m of 34.98 – not bad considering it was her first race for almost two years.
Wouldn't be too hard on Attention Run four her fourth placing up to 1800m.
That flat spot she hit first-up was evident once again but the difference being the pace wasn't there to allow her to storm over the top of the leaders as she did a couple of weeks earlier.
Between the 800m and 600m she clocked the fastest split of 11.58 then came the flat spot of 11.62 and 11.83 made more evident by Missybeel clocking 11.44 and 11.77 for the same two sections from just ahead of her in the run.
The imported mare then produced the best last 200m of 12.35 and a final 600m of 35.80 just a tick outside Missybeel's race best 35.76.
Fastest last 600m: Bangkok 33.74
Most ground covered (to win): Toryjoy +7.2m
Don't miss Punter's Intelligence with Gerard Middleton, Brad Davidson and Brad Gray at 7pm Tuesdays on Sky Thoroughbred Central.