A fairly easy first 600m is likely the key as to why Madam Rouge was able to sit wide and still score a dominant win in the Listed Christmas Classic at Randwick on Saturday.
Punter's Intelligence sectional data revealed while Madam Rouge ran the fastest overall time of the three 1200m races (1.09.95) the first half of the race, with Oriental Runner leading, was run in a leisurely 35.65.
That's three lengths slower than Embracer's first 600m of 35.15 (overall time 1:10.12) and four lengths slower than Kylease's first 600m of 34.97 in the race won by Aquitaine (overall time 1:10.02).
So while Madam Rouge covered ground in the run, an extra 6m, her superior turn of foot came into play as she reeled off the fastest last 600m of the day in 33.61.
Given there wasn't a significance difference in the times from the three 1200m races (just on a length) that first half was vital to the mare's ability to sit wide and sprint.
Interestingly, only five horses broke 34 seconds for the last 600m all day.
Take nothing away from Madam Rouge but there were two more performances worth noting from the Christmas Classic – runner-up Glenall and sixth placed Invincibella.
Glenall's last 600m was 33.62 which is just a touch slower than Madam Rouge and he had to negotiate traffic that included a bumping duel with favourite Signore Fox for a decent chunk of the home straight.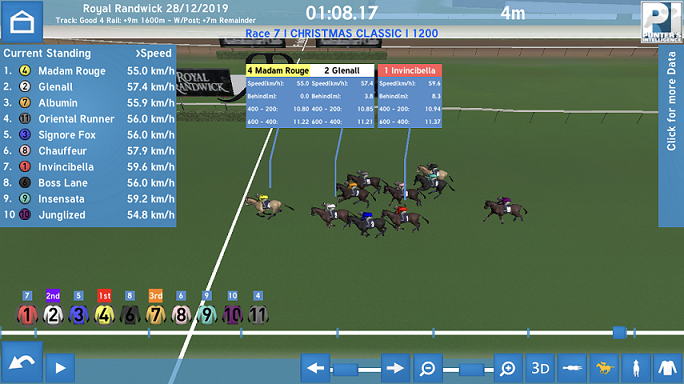 He ran 11.21 (600m-400m), 10.85 (400m-200m) and 11.56 (last 200m) compared to Madam Rouge's 11.22, 10.80 and 11.59. Again, take nothing away from the winner but he could have stretched her with a clearer run.
Invincibella was only getting warm late as she ran on from last clocking the race's best final 200m of 11.44 signalling she's on target for next time.
From the race won by Aquitaine the run of Helga first-up was a real eye-catcher both visually and from a sectional perspective.
She was taken back to last from the outside alley and spotted the leader Kylease some 19m in the first third of the race.
The mare covered an extra 6.1m, ran easily the fastest last 600m, 34.07, by over three lengths and her final 200m of 11.19 was a clear length faster than the next best.
It was her first run at 1200m since her debut and she scored over 1300m and 1400m last prep so watch out for her up in distance.
The run of Superium in finishing a close second to Embracer showed he's also ready to peak next time around, he dashed late running 11.68 for his final 200m and clearly posted the race's best last 600m of 34.25.
While there were only four runners in the two-year-old opener at Randwick plenty of interest post race was in the defeat of the favourite Bartley.
He was held in a pocket behind the leader with the winner Nitrous to his outside and enjoying the ability to sprint when he wanted.
Nitrous clocked the race's best last 600m of 33.99 which isn't a surprise while Bartley was next best on 34.25.
The latter was held up until just inside the 200m and was able to match the final 200m of Nitrous running 11.74 – he was beaten three quarters of a length so it's not a stretch to suggest he'd have made it interesting.
Fastest last 600m: Madam Rouge 33.61
Most ground covered (to win): Mr Dependable +10.7m
Punter's Intelligence returns to Tuesdays on Sky Thoroughbred Central in early 2020.