With less than three weeks until the $3.5m Longines Golden Slipper all the attention is on the two-year-olds and Saturday's Randwick meeting threw up two very contrasting races for the youngsters.
The Group 2 Precise Air Skyline Stakes (1200m) for the colts and geldings was run at a pedestrian early tempo compared to the fillies in the Group 2 Drinkwise Sweet Embrace Stakes (1200m) so they have very different stories to tell.
O'President was allowed to dictate the Skyline running his first 600m in 36.61, that's 10 lengths slower than Emerald Bay's first 600m in the Sweet Embrace of 35.01.
Given the early picnic it's no surprise that when O'President quickened the chasers were no hope of catching him – he still ran the fourth fastest last 600m of 34.32.
He ran 11.58 from the 800m-600m, 0.07 outside the fastest, then 11.20 (+0.14) for the 600m-400m and 11.13 (+0.20) from the 400m-200m – when you're able to increase the pace from in front those behind have to run Winx-like sectionals to run you down.
Runner-up Hilal did a great job in the chasing department, he ran easily the fastest last 600m of the race (33.74) and his last 200m of 11.74 was a length faster than anything else.
The overall time in the Skyline was 1:10.99 while in the Sweet Embace they posted 1:10.50 (three lengths faster) so considering the early tempo in the fillies division it adds some merit to the win by Four Moves Ahead.
She sat second and third without cover in the run, a couple of lengths off Emerald Bay, and her personal first 600m of 35.22 was still more than eight lengths faster than O'President.
She didn't run any dazzling sectionals, her last 600m was 35.22 and she did feel the pinch late running 12.00 for her last 200m – yet still the second best of the race - but the win shouldn't be underestimated simply because of a couple of others having flashing lights on.
Of course She's All Class was the real eye-catcher as she charged home from last, running 34.30 (six lengths faster than Four Moves Ahead) for her last 600m.
She ran a 400m-200m of 11.11 and a last 200m of 11.93. Where she stands in the Golden Slipper picture is interesting as, with a lot of her prizemoney ineligible, she may need to run again to gain a start.
Third placed Mallory ran the second fastest last 600m (34.77) though she did knock up noticeably over the last 200m (12.21).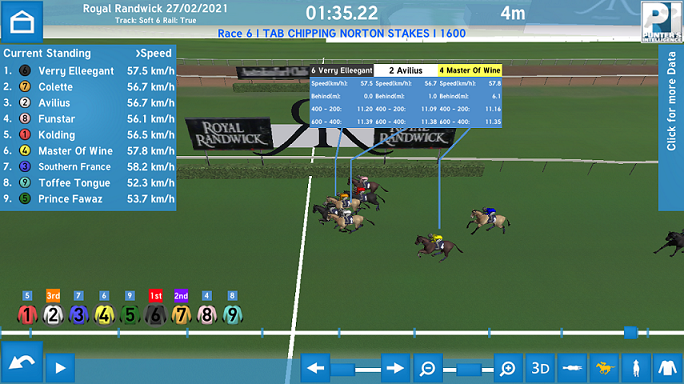 The Group 1 TAB Chipping Norton Stakes (1600m) proved to be a stirring contest and all honours to the winner Verry Elleegant in a win that sets her up well for the increase in trip and her meeting with Addeybb in the Ranvet Stakes (2000m).
Her last 600m was 34.47 but the decisive move from James McDonald came well before the home turn as he stoked the mare up to run more than two lengths faster for each sectional between the 800m and 400m.
Unsurprisingly it was Avilius who posted the race best splits running 34.30 for his last 600m and he was responsible for the fastest sections in five of the last six 200m splits.
He ran a last 200m of 11.83, second best was Master Of Wine who ran 11.86 and Verry Elleegant next on 11.88.
Master Of Wine's run was promising enough first-up, he ran 34.37 for his last 600m, though he didn't feature in the five horse blanket finish. Whether he can make the improvement up in trip to be a weight-for-age force may be decided in the Ranvet if he goes there, perhaps he needs to come back a notch.
One of the big questions out of the Group 1 Cellarbrations Surround Stakes (1400m) is what do we do with Hungry Heart?
Granted it wasn't a great set-up for her having to go back to last off a wide gate. In running seventh she actually ran the second fastest last 600m of the race (34.93) and matched the winner Forbidden Love's 400m-200m of 11.25 so there was merit in the run.
Forbidden Love was nothing short of dominant, though, as she scorched home in 34.64 for her last 600m, almost two lengths faster than Hungry Heart, and she was the only horse to break 12 seconds for the last 200m (11.78).
Criaderas was at it again in the Group 3 Quayclean Liverpool City Cup (1300m) posting the meeting's fastest last 600m of 33.07 as he finished a close second to Think It Over.
His racing style is his greatest enemy at the moment. Not only was his last 600m the day's best but his last 200m of 11.17 was also superior and that sectional was two lengths faster than the next best in the race.
Imagine what he could do if he was able to settle midfield in his races! Or would that dull his sprint and he simply needs to rely on tempo?
Behind him the run of All Saints' Eve (33.61 last 600m) was sound.
Fastest last 600m: Criaderas 33.07
Watch Punter's Intelligence with Ben Way, Brad Davidson and Brad Gray at 7pm on Tuesday on Sky Thoroughbred Central.