Easy work for promising sprinter Sesar scoring first-up at Randwick on Saturday and it begged the question just how good is he?
It's sure to have been a cameo with bigger targets in the spring in mind but he's a name to remember looking at his Punter's Intelligence sectional data from the Winter Dash.
Thanks to the free-running Jungle Edge, the Winter Dash was truly run. The first 600m of the 1200m race clocked in at 34.95, significantly faster than the other four 1200m races on the day.
Sesar ran his last 600m in 34.49 which was three lengths faster than anything else in the race and he was being eased up. The last 200m of 11.87 was about two lengths quicker.
He made quite a long run, too, with the 800m-600m of 10.98 also the best of the race.
We know Sesar is way above average, he did win the Group 2 Roman Consul back in October and as a two-year-old ran fourth in a Group 1 JJ Atkins behind The Autumn Sun.
Group 1 targets are sure to be on his radar next season, considering he's now in the Aquis colours, but could he win his way into an Everest? Time will tell.
There were some question marks from Godolphin trainer James Cummings over Almanzora's readiness for 1200m on a heavy track first-up.
Everything is easy in hindsight but perhaps there's merit as she ran the fastest 600m-400m of 11.31 then held it running 11.39 from the 400m-200m but really knocked up late with a 12.54 home.
She wouldn't have beaten the winner but worth another chance.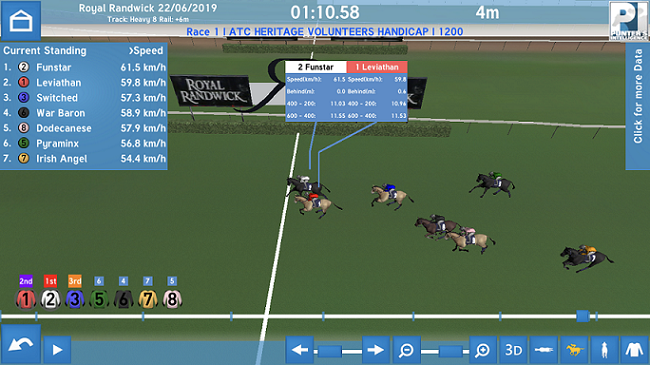 It's easy to look at the boom filly Funstar's best of the day last 600m of 33.88 and gush. In the context of her race compared to the day you'd be disappointed if she didn't run time.
The first 600m of the two-year-old race was run in a crawling 36.86. That's some 11 lengths or so slower than the open sprinters and over 12 lengths slower than the Highway!
So it was a dash home for the youngsters and both Funstar and Leviathan broke 34 seconds home, the latter running 33.96.
While Funstar's last 600m was about four lengths faster than Sesar they went that 11 lengths slower early so she's entitled to be sprinting home.
Clearly both horses are very promising, Funstar's only had the two starts and is bred to get out over a bit more ground while Sesar has just eight runs under the belt and is already a two time Group winner.
The fastest first 600m of the five 1200m races went to the Highway, in 35.75, so it's no surprise we can see some slower final sectionals there.
But Nashian had the flashing light on in that Class 3 Highway event as he surged down the outside from last running 35.09 for the last 600m, three lengths faster than anything else, and his 12.07 final 200m also easily the quickest.
It was his first run in a Highway and if he returns, and draws a barrier, he'll be very popular.
Invictus Salute seems to be adapting to being ridden off the pace well and she's worth staying on the back of after her second to Spiritual Pursuit back to 1000m.
After drawing and racing wide she covered an extra 7.7m than the winner and still ran the fastest last 600m of the race in 34.60.
Fastest last 600m: Funstar 33.88
Most ground covered (to win): Commander +9.4m.
Don't miss Punter's Intelligence with Gerard Middleton, Brad Davidson and Brad Gray at 7pm Tuesdays on Sky Thoroughbred Central.