A demolition is the best way to describe the win of unbeaten two-year-old Aim at Randwick on Saturday.
Despite the wind playing havoc with the times, the fact remains the Punter's Intelligence sectional data showed the colt's last 600m of 34.93 was four lengths faster than anything chasing him.
Aim was responsible for the fastest 200m sectionals all the way from the 800m to the post.
He ran 10.93 from the 800m-600m, 11.38 (600m-400m), 11.45 (400m-200m) and a last 200m of 12.10 – that final split a clear two lengths faster than the runner-up Stellar Pauline.
The filly was in front of her stablemate in the run but had to make her run around them while the winner stole a few gaps along the inside.
Her last 200m of 12.43 was about 1.5 lengths faster than the next best, the fast finishing Jemss (12.64).
It's a tough job to take anything out of comparing the times between the two 1200m events due to the vastly different wind conditions prevailing.
Aim ran 1:10.53 with a headwind while later in the day Taniko had a howling tail wind when she clocked 1:08.52 – 12 lengths faster than the two-year-olds.
You'd normally expect older horses to run a little bit quicker but two seconds is quite a margin!
Taniko ran right up to her first-up effort where she was a standout sectionally and she clocked the day's fastest last 600m of 33.03 in her last to first win.
That time is almost four lengths quicker than the next best in the race, Romani Girl's 33.67 though the grey did run just 0.08 slower for the final 200m than the winner.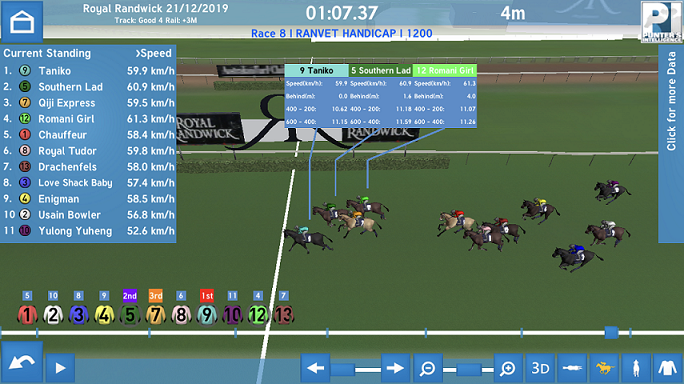 Runner-up Southern Lad stamped himself as a coming winner with his brave performance to hold down second place after riding the speed.
Sitting outside the leader Yulong Yuheng, Southern Lad ran his first 600m in 34.33 which is over six lengths faster than Taniko was asked for the same section (35.41).
The leader dropped out to run last while Southern Lad boxed on and ran the third fastest last 200m of 11.43 to be beaten half a length.
Cinquedea can be forgiven for his unplaced effort in the Schweppes Handicap (1400m) after he raced three wide throughout.
He covered an extra 9.5m in the run yet his last 600m of 35.35 was only 0.26 slower than race's best by third placed Seles (35.09).
There were three 1400m races at Randwick and that race, won by Edison, was run in 1:22.78. Passage Of Time led all the way to win in 1:22.15 while Asharani won the mares race in 1:23.33.
Of them, Edison's event had the faster first 600m 35.19 which was six lengths quicker than Passage Of Time ran and more than seven lengths superior to To Your Health who led the mares.
Cinquedea ran the fastest 600m-400m of 11.46 as he loomed as a chance before the run told.
Given Passage Of Time's early sectionals the run of Smartedge to finish second had more merit as the tail wind hadn't kicked in at that stage of the day.
From last he ran a final 600m of 33.73, only he and third placed Redouble (33.98) broke 34, including a slick 10.86 from the 400m-200m.
It's no surprise the pace dropped off midrace in the mares event, leader To Your Health ran 11.09 from the 1200m-1000m then six lengths slower 12.13 from the 1000m-800m!
The winner Asharani finished best in 34.37 and a last 200m of 11.65.
In the final event over a mile, Shadow Flight showed he's ready for a bit more than 1600m with an eye-catching fifth running 33.74 for his last 600m which was fastest by almost a length.
Fastest last 600m: Taniko 33.03
Most ground covered (to win): Vadiyann +8.4m
Punter's Intelligence returns to Tuesdays on Sky Thoroughbred Central in early 2020.