It's exciting to think what OTI import My Swashbuckler could be capable of when he steps into his preferred distance range after his outstanding second-up effort at Randwick on Saturday.
The Kris Lees-trained former Irish galloper produced a strong late surge to run third in the Ranvet Handicap (1600m) and a look at the Punter's Intelligence data highlights his performance.
He clocked the fastest last 600m of the race, running 37.19, but it's his last 200m, and the circumstances leading up to that, which stand out.
At the 600m My Swashbuckler was about 11m off the leader Mr Dependable, with the winner Agassi in hot pursuit, but by the 300m he'd lost ground to be 19m astern.
He then ran 12.49 for his last 200m which was more than two lengths quicker than the next best, three lengths faster than Agassi and close to six lengths faster than Mr Dependable.
His European form says the five-year-old wants every bit of 2000m, his lone win to date was at 1800m at his second race start, and on what he showed at Randwick he's heading towards his first local win.
The import on everyone's lips after Saturday was Mount Popa who made a mess of his opposition in the Castelvecchio @ Arrowfield Handicap (2000m).
A technical issue meant the sectionals from his race couldn't be published on the Punter's Intelligence app but he ran a last 600m of 37.43 which was over three lengths superior to his rivals.
He ran 12.31 from the 400m-200m while his last 200m of 12.77 was just under two lengths faster than the next best Birth Of Venus (13.05).
Also worth noting out of that race is another import Korcho (eighth) who clocked the fastest splits all the way from the 1400m to the 400m, consistently running between 11.90 and 12.13 per 200m, before striking some trouble which took the wind out of his sails late.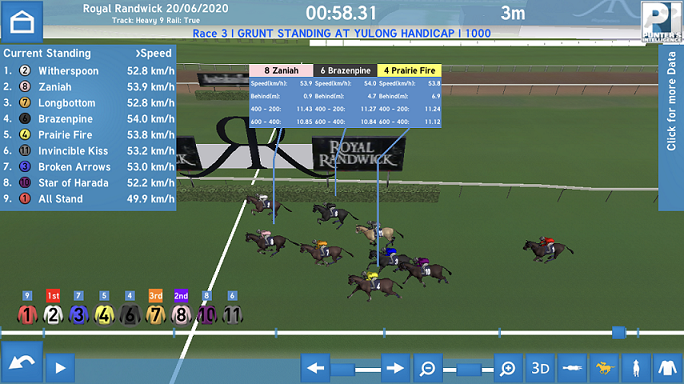 Sustained speed saw the Lees-trained Witherspoon make it back to back wins in the Grunt Standing At Yulong Handicap (1000m) but a few runs behind her are worth noting.
You could make a case that the runner-up Zaniah should have won had she not completely bombed the start. Her first 200m of 13.76 was four lengths slower than Witherspoon while her overall last 600m of 34.72 was more than a second faster.
She was only first-up and this was her first go on a heavy so she can atone in coming weeks.
Behind the placegetters Brazenpine clocked the fastest last 600m of the day running 34.61 and she is far from being a noted wet tracker.
And what about the run of Prairie Fire in fifth, he was 30m off Witherspoon at the 400m and reeled off a race best 11.24 from the 400m-200m and 12.26 last 200m (34.62 last 600m) in an eye-catching second run for Danny Williams.
There were four 1200m races on Saturday and not surprisingly it was the Bentley Winter Dash which was the fastest of them as Viridine backed up his sectionally pleasing run in the Bob Charley AO to post a strong win.
He easily clocked the fastest last 600m of 36.36, two lengths faster than the next best Redouble (36.76), and was the only horse in the race to break 13 seconds for the last 200m (12.85).
The TAB Highway over the same trip looks to have some depth given the winner Partners ran 1:12.76 compared to Viridine's 1:12.33.
The two races were run similarly for the first 600m, Partners ran 35.29 to Handle The Truth's 35.33, but the open class horses were superior late as you'd expect when lining up against Class 3 horses.
Bad Boy For Love surely claims a Highway soon after charging home from near last in 36.39, his last 200m of 12.29 was three lengths faster than the next best and he was held up slightly in the straight.
Kattegat is the other horse to take away from the Highway, he turned a clear last and ran a last 600m of 36.49 to run fifth. His 400m-200m of 11.78 was fastest of the race but he knocked up noticeably late after making that dash.
Fastest last 600m: Brazenpine 34.61
Most ground covered (to win): Exhibition +9.8m
Watch Punter's Intelligence with Ben Way, Brad Davidson and Brad Gray at 7pm on Tuesdays on Sky Thoroughbred Central.