Could we have seen the TAB Everest and the Kosciuszko winner at Royal Randwick on Saturday?
Certainly the wins by Classique Legend and It's Me were dashing and visually impressive and Punter's Intelligence sectional data showed the clock backed up what the eye saw.
Classique Legend's dominant win in the Group 2 Shorts (1100m) was made even more eye-catching given he was badly held up until near the 200m before unleashing a blistering sprint.
His last 200m of 11.23 was two lengths faster than anything else in the high class field, his last 600m of 33.06 was also the race's best and you'd imagine that would've been quicker had it not been for traffic.
He ran 11.10 between the 600m and 400m (second slowest of the race) then 10.73 from the 400m to 200m (second fastest) so it was a very big win and he was only first-up.
Away from Classique Legend, Standout's first-up fifth had plenty of merit.
After a slow start he clocked a 33.10 last 600m, including the fastest 400m-200m of 10.67, and he did knock up noticeably late (11.67 last 200m) so will come on for the run.
The placegetters Eduardo and Bivouac sat wide in the run so their efforts had plenty of merit, Eduardo's last 600m was 33.63 after being close to the speed while Bivouac, who settled midfield, kept coming in 33.19 in a solid first-up effort.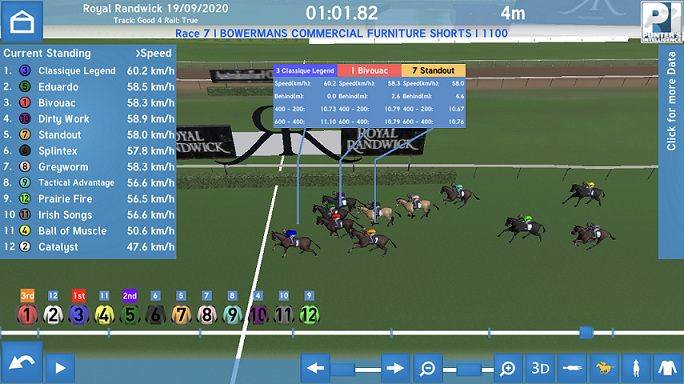 It's Me firmed into favouritism for the Kosciuszko when she made it three from three in the TAB Highway (1000m) running the fastest last 600m and 200m of the meeting over the short course.
After settling among the last few in the run she unleashed a 400m-200m of 10.49 (two lengths faster than next best) and last 200m of 11.13 (two and a half lengths quicker) with her final 600m a sizzling 32.41.
Such was her dominance over the Highway opposition, her last 600m was about six lengths faster than the next best which was fourth placed Leo (33.37).
She's clearly better than country class, so the Kosciuszko will tell us more about where she stands.
The battle between the classy fillies Dame Giselle and Hungry Heart continues to be an interesting one and the Darley Tea Rose Stakes (1400m) made the score 2-0 in the Dame's favour this spring.
Clearly there isn't a lot between them, sectionals from the Furious were quite similar overall and it's the same story from the Tea Rose.
Dame Giselle ran a last 600m of 33.91 while Hungry Heart, who covered 0.3m more ground, was half a length faster running 33.79.
From the 600m-400m Dame Giselle ran 11.48 to Hungry Heart's 11.50 then 10.98 vs 10.94 (400m-200m) and the last 200m by Dame Giselle was 11.45 to Hungry Heart's race best 11.35.
When they get to the mile of the Group 1 Flight Stakes in two weeks it could well come down to the tempo and who gets the better run.
Criaderas was hard to miss in the Tresemme Handicap (1400m) as he charged from last into a close third running 33.51 for his last 600m, two lengths faster than runner-up Icebath (33.88) whose casual approach early continues to cost her races.
The Godolphin gelding spotted the leaders some 20m at about the 800m then ran home in 11.74 (800m-600m), 11.47 (600m-400m), 10.81 (400m-200m) and a last 200m of 11.23.
He was a well backed favourite there and you'd imagine the same will apply to his next appearance.
Bound To Win blew the start badly in the Quincy Seltzer Handicap (1200m) and finished the race in eighth place but you can mark her run down as a good one.
She clocked the fastest last 600m of 33.33, just under two lengths faster than the winner Athiri.
After a 14.87 first 200m she put the head down to chase and ran a 10.74 from the 600m-400m and 10.86 from the 400m-200m. Athiri ran the quickest last 200m of 11.67 but Bound To Win wasn't far behind with 11.73.
She's unbeaten second-up so don't mark this run against her.
There was a much improved showing from import Dadoozdart in the Group 3 Bill Ritchie Handicap (1400m), a race that was a sprint home.
Following three zeroes against his name he lifted to finish fourth and clocked a 33.42 last 600m, just 0.02 outside the race best by the winner Probabeel, and given he has won up to 2500m he can only get better over a bit more ground now.
Fastest last 600m: It's Me 32.41
Watch Punter's Intelligence with Ben Way, Brad Davidson and Brad Gray at 7pm on Tuesdays on Sky Thoroughbred Central.