A look at just how slowly the JRA Plate field completed the first 1000m of its 2000m journey illustrates how difficult it was for Shared Ambition to win at Randwick and how exceptional his effort was.
Punter's Intelligence sectional data shows Greysful Glamour carved out the first half in 1:05.26 which is about 20 lengths slower than Entente's first 1000m in the Frank Packer Plate (1:02.65), won by Kinane, over the same distance.
By the end of the respective races the gap between the two 2000m events closed to about eight lengths in favour of the three-year-olds.
So the JRA Plate field ran their last 1000m over 12 lengths quicker and Shared Ambition produced the fastest sectionals in four of the five 200m splits.
He ran 11.86 (1000m-800m) then 11.40 (800m-600m), his 600m-400m of 11.23 was second fastest then 11.28 (400m-200m) and 11.65 final 200m were again quickest.
His last 600m of 34.16 was two lengths faster than anything else in the race and he covered an extra 9.4m in the run, add to that when they passed the 1000m he was 28m off the lead and that increased to 31m near the 800m.
So for him to finish as close as he did to the winner and run third it was nothing short of phenomenal.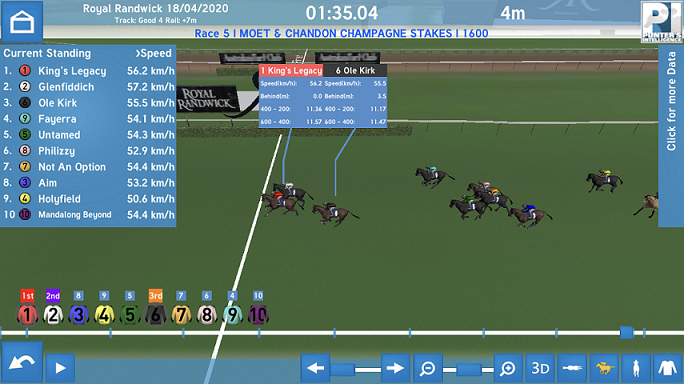 As he did in the Inglis Sires', King's Legacy showed his strength at the finish of his races in taking out the Group 1 Champagne Stakes over the mile.
He didn't run the fastest last 600m, his 34.98 was bettered by third placed Ole Kirk (34.75), but he was superior at the business end running the fastest last 200m of 12.05.
All honours to Tofane in the day's other Group 1, the All Aged Stakes (1400m) but it was hard to miss the performance of fourth placed Super Seth.
The colt's last 600m of 34.50 was the race's best but it's his last 200m of 11.88 that stood out.
That's because he was the only horse to break 12 seconds for that section and by quite a way, with his time well over a length clear of anything else.
Kementari confirmed what he showed in his comeback run three weeks earlier with a luckless third in the Group 3 Hall Mark Stakes.
He ran a last 600m of 34.23, which could have been faster had he not been held up for a run, and he produced the equal fastest last 200m of the day (with Jailbreak) running 11.48.
Also worth noting out of the Hall Mark is the improved run of In Her Time, she ran the fastest last 600m of the race in 34.14, including a 10.90 from the 400m-200m, as she finished fifth.
The Hall Mark was run considerably slower than the Benchmark 88 won by Snitz, by some four lengths in the first 600m, and there were a couple of runs in that race worth highlighting.
Outrageous posted the fastest last 600m of 34.09 in an excellent first-up effort, he ran 11.17 (600m-400m) and 10.99 (400m-200m) and while his last 200m of 11.93 was only third best he did cover an extra 7.1m and was entitled to feel the pinch a little.
He was unlucky first-up last preparation before winning second-up, so stay with him.
So Taken had something of a hard luck story in the same race, she was badly held up until it was too late so her 34.52 final 600m had merit and she did clock the fastest last 200m of 11.85.
Fastest last 600m: Subpoenaed 34.04
Most ground covered (to win): King's Legacy +10.6m