The heavy conditions at Randwick on Saturday weren't conducive to fast sectionals on the whole but nobody told exciting sprinter Masked Crusader.
Punter's Intelligence sectional data gives insight into the gelding's exceptional first-up performance in the Schweppes Handicap (1100m), a race that defied the trend of the day.
Masked Crusader clocked easily the meeting's fastest last 600m of 34.92 and final 200m of 11.83 as he charged home to just miss behind in-form mare Varda.
Not only were those times the best of the meeting he was the only horse all day to break 35 for a last 600m and 12 for a last 200m and was among only four horses to run faster than 36 seconds for a last 600m – all in the race in question.
The start of the race adds further merit to Masked Crusader, he was second slowest to begin running the first 100m in 8.74 – only Spiritual Pursuit, who completely blew the start, was slower (9.23).
He then ran the fastest 200m sectional from the 1000m-800m (11.60) to make that up with Spiritual Pursuit almost matching him (11.61).
It's clear Masked Crusader is a real talent, whether he reaches the heights of a TAB Everest in 2020 remains to be seen – he's still only rated 81 – but could develop into a real force in 2021.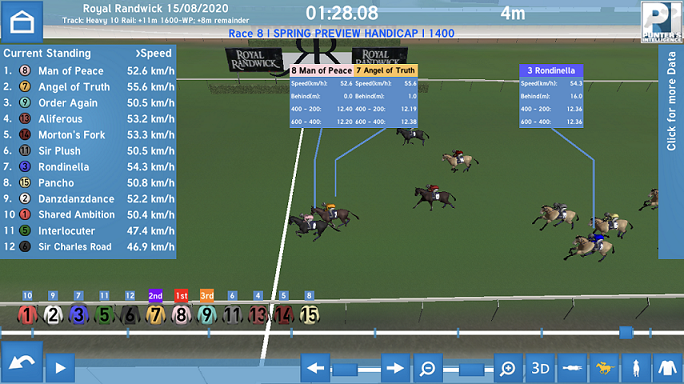 There's a bit to take out of the Spring Preview (1400m) where plenty of potential spring contenders kicked off their campaigns and one of them in particular was hard to miss.
The 2019 ATC Derby winner Angel Of Truth might well be back in business after a slashing second at his first start for the Hawkes stable.
After settling midfield he reeled off a race best last 600m of 37.24, about a length and a half quicker than anything else, and last 200m of 12.67 (two lengths quicker) to get very close to Man Of Peace on the line.
The pleasing aspect of the run was his ability to settle comfortably in midfield and find the line, something he's not been able to achieve since his Derby win.
Man Of Peace confirmed his status as a leading Kosciuszko contender and he put the race to bed in the first 400m as he established control, running 25.86 (two and a half lengths faster than Sir Plush who sat second) and the fastest overall time of the three 1400m events.
Outsider Morton's Fork posted the second best final 600m of 37.43, showing he has returned in good order, while it was hard to miss Rondinella screaming home from last at the 600m into sixth place.
She ran a 37.70 last 600m and was one of only two horses to break 13 seconds for the last 200m, clocking 12.98.
Obviously the win by North Pacific was exciting in the Group 3 Up & Coming Stakes (1300m), his last 600m of 37.14 was four lengths faster than the runner-up Bazooka (37.81).
It did appear to be tough going in that event, North Pacific was the only horse to break 12 seconds between the 400m and 200m (11.98) and his last 200m of 12.84 is on the slow side but he was still dominant.
There may be another win or two left in the old warrior Big Duke after a handy fourth in the Premier's Cup Prelude (1800m), a race completely controlled by the winner Taikomochi.
Big Duke settled last in the six horse field and was only getting warm at the line as he ran a race best 37.25 for his last 600m, a length quicker than the winner, and a 12.80 final 200m (almost two lengths faster).
There was a bit more merit in the first-up win by All Saints' Eve than the bob of the head finish would suggest.
In a tactical race, James McDonald had to make a move before the turn to ensure Vitesse didn't steal a march so she ran 11.90 between the 600m and 400m kept the leader in sight.
Her last 600m of 36.60 was well over a length quicker than next best (High Low Bet 36.80) and more than two lengths faster than Vitesse.
Fastest last 600m: Masked Crusader 34.92.
Watch Punter's Intelligence with Ben Way, Brad Davidson and Brad Gray at 7pm on Tuesdays on Sky Thoroughbred Central.