The booming first-up win by Cisco Bay to close out Saturday's Randwick meeting was as impressive on the clock as it was visually but now the question remains – can he back it up next time?
So often do we see regression in performance from a peak into a subsequent run, as one of Cisco Bay's beaten rivals can attest to, but the gelding is a consistent performer and this was the start of his second preparation with Gerald Ryan and Sterling Alexiou. So previous stats may not be relevant.
Punter's Intelligence sectional data showed Cisco Bay clocked easily the best splits in the Precise Air Handicap (1400m) running a 34.21 last 600m, over two lengths faster than the next best.
Inside that final 600m was 11.52 from the 600m-400m, 10.99 from the 400m-200m and a last 600m of 11.70 – all best of the race by a decent margin.
He is effective in all conditions and while this was his first city win since January last year he won the Nowra Cup and was competitive up to benchmark 88 company, which is where he'll be headed now.
The cautionary tale is that of Blondeau, who was sizzling in his first-up win at Gosford but has been defeated in two subsequent attempts. That's not to say he hasn't been performing well, it's just he hasn't been able to replicate that win on the bigger tracks.
Blondeau ran a last 600m of 34.60 and was second fastest to Cisco Bay in all relevant sectionals. So he's held his form but hasn't been able to match that huge win.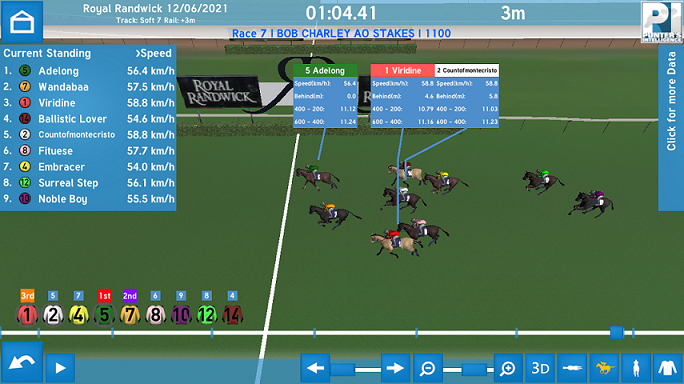 Adelong continued her good form with a tough on pace win in the Listed Bob Charley AO Stakes (1100m) and her performance can be illustrated by the run of the leader Ballistic Lover.
Her last 600m of 34.17 was only fifth fastest but she was able to sustain her gallop and didn't weaken significantly from the 400m-200m to the last 200m (11.12/11.81).
Ballistic Lover on the other hand had similar 400m-200m sectional (11.14) but her last 200m of 12.25 was 0.01 outside the slowest of the race.
Viridine was the best of the chasers, sectionally, running 33.51 for his last 600m including a slick 10.79 from the 400m-200m, and the ex-Singapore galloper Countofmontecristo warmed up last with the second fastest last 200m of 11.68.
There's a win coming up for Grand Piano after he confirmed he's back in form with a game second in the ACY Securities Handicap (1300m). While his last 600m of 34.90 was second fastest behind the winner New Arrangement (34.49) he did clock the fastest last 200m of 12.02.
Given both he and the winner are adept up to a mile or so it'll be an interesting rematch if they clash again over a bit more ground.
Ulysses showed he's in for another solid preparation with a slashing first-up third in the 50 Year And Life Members Handicap (1200m) clocking a race best last 600m of 34.20.
That was a length and a half faster than anything else and he also posted the fastest 400m-200m (11.01) and last 200m (11.62).
There was plenty of merit in the first-up run also of runner-up Steel Diamond, who did get very close to the winner Gravina, running a 34.43 last 600m.
Interestingly, that race was run significantly slower than the two-year-old event to open the program won by Verne in a tight finish.
The youngsters ran an overall time of 1:11.60 while the Benchmark 78 race was 1:12.18 or almost four lengths slower. The difference in the first 600m was about seven lengths.
Fastest last 600m: Hulk 33.36
Watch Punter's Intelligence with Ben Way, Brad Davidson and Brad Gray at 7pm on Tuesday on Sky Thoroughbred Central.