The two 1000m races at Randwick on Saturday provide an interesting times comparison and it might suggest the three-year-old form from the day is particularly strong.
Star Fall took out the opening race which was run in 57.34 while four races later Single Bullet claimed the open sprint in 57.64.
Looking a bit closer through Punters Intelligence data, the first 400m in the first race was run in 23.63 while Jungle Edge led out the open sprint over a second slower in 24.69. So it's no surprise Single Bullet's last 600m was superior to Star Fall.
In fact, all five runners in the open sprint returned a faster last 600m than Star Fall with only Badajoz (33.29) not breaking 33 seconds.
Single Bullet produced the day's fastest last 600m of 32.42 with a sizzling last 400m of 21.50. Star Fall's splits are still respectable given the faster early section and he clocked 33.30 for the last 600m (22.46 last 400m).
Chasing Star Fall home was Single Bullet's stablemate Exceltic and he proved he's well up to winning a Saturday race in the coming weeks.
Exceltic settled last and had to run on with the fast early speed, he produced a 33.06 for the last 600m including a 22.28 last 400m.
There were a few forgive runs at Randwick and the first to highlight is Catesby who was gallant in running fourth after leading in the 1200m third event.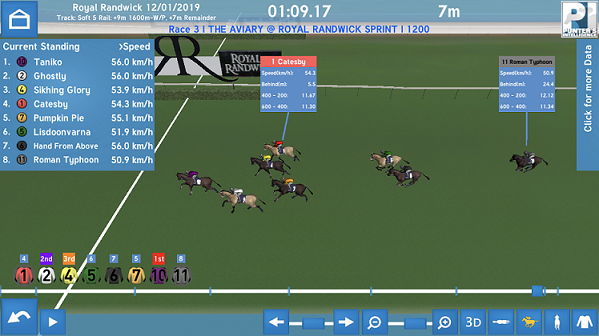 Catesby was softened right up by Roman Typhoon in the early stages and his first 400m of 23.48 was faster than both 1000m sprints on the day. It's no wonder he didn't have a lot left late.
His effort can be best illustrated by the 20m gap between him and Roman Typhoon at the finish.
Hemmerle was a beaten favourite in the TAB Highway over the mile and it was a race dominated on the speed while he conceded the lead some 20m midrace.
He ran the fastest 600m-400m of 11.49 and 400m-200m of 11.28 in the second best last 600m of the race as he ran into fourth. Perhaps he needs a bit more give in the track but his effort was sound nonetheless.
Green Sweet is threatening to win a race and it's not the first time this former Albury Cup winner has come home in the fastest last 600m of a race, this time in 36.21 in a slowly run 1500m event.
The race won by Turnberry was run in almost a full second slower (0.99) than the earlier 1500m race won by Extreme Bliss.
Live And Free is going to be hard to beat in anything he contests on a dry track after a dynamic performance to win over 1800m.
He was fastest for each of the last three 200m splits resulting in, naturally, a race best last 600m of 34.35 and he appeared to have something left at the finish.
Behind him running on late was Collateral who, after having to be re-shod pre-race, showed a return to form in fourth place running the second best last 200m of 11.82.
Fastest last 600m: Single Bullet 32.42
Most ground covered (to win): Smart As (+10.4m)
Punters Intelligence returns to Sky Thoroughbred Central with Gerard Middleton, Brad Davidson and Brad Gray at 7.30pm on Tuesday.