It's just one month until the Country Championships qualifiers begin so it's no surprise we're seeing some likely contenders emerge and chief among them at Randwick on Saturday was Lady Demi.
The mare produced a huge finish to come from last and fill the runners-up spot to all the way TAB Highway (1200m) winner Assault'n'bathory and the pair will clash again in the South East Qualifier at Nowra on February 16.
Punter's Intelligence sectional data shows Lady Demi easily posted the race's fastest last 600m of 34.45, two lengths quicker than next best, and her last 200m of 11.61 was also two lengths better.
Her second-up record isn't the best on paper so be a little wary next time around but Terry Robinson has her on target for the 1400m of the Nowra Qualifier.
And a hidden run out of the Highway came from Electrified who ran the second fastest last 200m of 11.93 after having some traffic issues early in the straight.
Let's not undersell the winning performance of Assault'n'bathory who was also first-up, did all the work from the outside gate and is already proven at 1400m.
A time comparison between the Highway and the open class sprint won by Southern Lad over the same distance suggests this was a strong Highway.
Assault'n'bathory ran his first 600m in 34.40 while a race later Special Reward led up in 35.54 which is about seven lengths slower.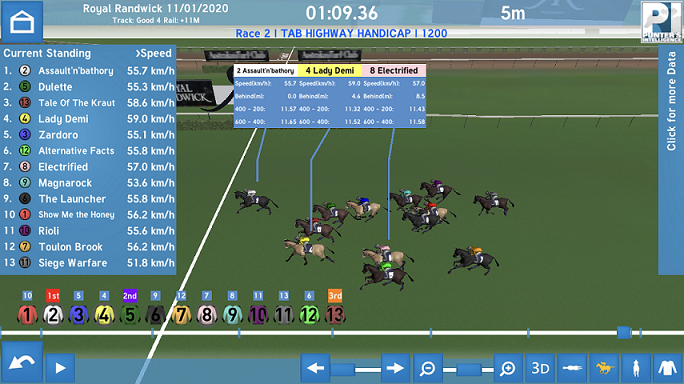 Naturally, Southern Lad and company sprinted home much faster. His last 600m was 33.22, and their overall time was about four lengths faster than the Highway.
It seems the day's shortest priced favourite Mr Dependable probably overdid it in the first half of the race and that brought about his demise at his first try at 1800m.
The grey ran his first 600m in 37.34. The 1600m event won by Rocha Clock featured a first 600m of 36.10 run by Bigboyroy while the 2000m January Cup won by Luvaluva's first 600m was a crawl in 41.15 with Taikomochi in control.
A look at the first 1000m shows Mr Dependable ran 1:01.15 while Taikomochi's first 1000m was more than 36 lengths slower in 1:07.55.
While Mr Dependable was able to pick up and drop off Tahsin, who had kept him busy early, and run the fastest split from the 600m-400m (11.83) he absolutely staggered the final 200m running 12.70.
No horse broke 35 seconds for their last 600m so that suggests they did plenty work early, in the January Cup Luvaluva's last 600m was 33.92 while Rocha Clock was able to sprint home in 34.59.
It tells us we've got to be a little forgiving of Mr Dependable, as hard as that may be if you backed him.
While on the January Cup, and though all honours go to the winner, Mr Garcia should be able to be placed to advantage soon as he posted the fastest last 600m of the race in 33.79 as he finished a close third.
The Ranvet Handicap (1500m) may be the one that got away from Nicochet who ran a sparkling final 600m of 34.71 from second last to just fail, he was the only horse to break 35 and ran three lengths faster than anything else in the race.
It was his eighth career second placing, and the fourth time he's gone down by 0.2 lengths or less, so it's a matter of finding the right race again but getting the breaks when he needs them.
Fastest last 600m: Aquitaine 32.72
Most ground covered (to win): Luvaluva +8.5m
Watch Punter's Intelligence at 7pm on Tuesdays on Sky Thoroughbred Central.