There was something eerily similar about the wins of Sweet Scandal and Samadoubt at Randwick on Saturday and it wasn't just that they led throughout over 1300m.
While it was clear the Kensington track was playing fast, making it advantage on-pacers, Punters Intelligence data uncovers the wins of both horses followed the same pattern.
Sam Weatherley on Sweet Scandal signalled his intention to lead and ran the first 300m in 19.22, he then steadied the pace with 11.29 (1000m-800m) and 11.47 (800m-600m) before taking off 11.28 (600m-400m) and 10.99 (400m-200m). Sweet Scandal still ran the second fastest last 200m of 11.48.
Her last 600m of 33.75 was the second best of the race so it was mathematically impossible for her to be run down.
It was the same story in Samadoubt's race and he ran an overall time of just 0.06 slower than Sweet Scandal.
The first 300m was 19.10 then Jean Van Overmeire was able to back off running 11.33 (1000m-800m), 11.42 (800m-600m) and then pick up with 11.26 (600m-400m) and 11.17 (400m-200m).
Samadoubt's last 200m of 11.53 was only 0.07 slower than the race best so, again, he was never going to be caught.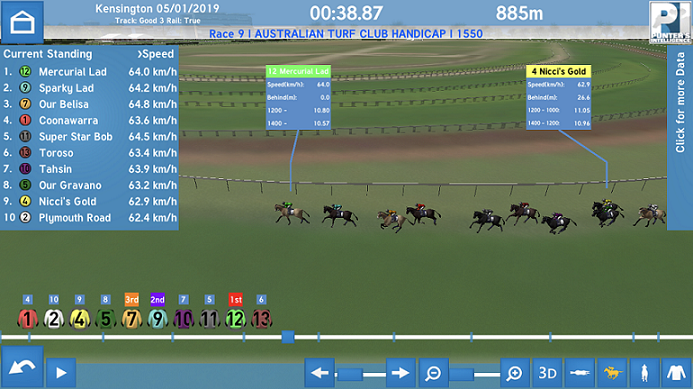 The win by Mercurial Lad in the 1550m meeting closer was another front-running masterclass by Sam Weatherley where he took his rivals out of play in the first 550m.
He ran that section in 32.25 and from there it didn't matter that he couldn't produce another race-best sectional because he just kept rolling, only tiring late with final 200m of 12.60 and a last 600m of 36.35.
Both second and third placed Tahsin and Nicci's Gold ran their last 600m in a full second faster than the winner but, with the sprint taken out of them, couldn't make up enough ground.
Nicci's Gold's effort had plenty of merit, she was some 26m off the lead midrace and reeled off the best 400m-200m of 11.56 and last 200m of 12.30. She's flying and would also appreciate a track not playing so fast.
Speaking of fast, the clash between Heart Conquered and Sei Stella in the 1000m dash lived up to expectations and produced a quirky sectional result.
Sei Stella ran a faster last 600m (32.56) than Heart Conquered (32.60) and covered 3m less ground but was still not able to win.
It seems the crucial section was the 400m-200m where Heart Conquered ran 0.11 faster than his rival, to hit the lead, who fought back but failed by a long neck.
A couple of two-year-olds signalled a bright future in the opening race, particularly Twentyfour Carat who ran the fastest last 600m of 33.20 for the 1150m event.
He settled last and covered more ground than any of the eight youngsters and produced an 11.29 last 200m to almost snatch second. He's a horse that will appreciate a bit more ground too.
The same can be said for fourth-placed Peralta who ran the third best last 600m of 33.74 but was clearly only getting warm at the finish.
Fastest last 600m: Easy Eddie 32.26
Most ground covered (to win): La Scopa +6.8m
Punters Intelligence returns for 2019 on Sky Thoroughbred Central next Tuesday.