He was the horse on everyone's lips after the Kensington program on Saturday, so how does Pandemic stack up under the Punter's Intelligence eye?
It was clearly a fast day at Randwick, with a bit of wind assist as well, but the Godolphin colt burned the turf when he found some clear room late in his 1100m dash.
Pandemic ran his last 600m in a slick 32.37 though that wasn't the fastest of the race, largely due to him being bailed up for a run until well into the straight.
His final 200m was where he shone, clocking 10.63 which wasn't only the best of the race by well over a length but also the fastest last 200m of the entire day.
Who knows where this colt could reach class wise, this was only a benchmark 70 but he did easily account for some four-year-olds and it was only his second start.
He's a half brother to former star filly Earthquake who has taken a little longer to come to hand and it'd be a surprise if he doesn't reach stakes level this spring.
Mention must be made of the runner-up Maddi Rocks who was responsible for the fastest last 600m of the race of 32.19.
This is a filly who is expected to excel over a bit further than the 1100m and the way she sprinted early in the straight, running 10.51 from the 400m-200m, would win you most races at that level.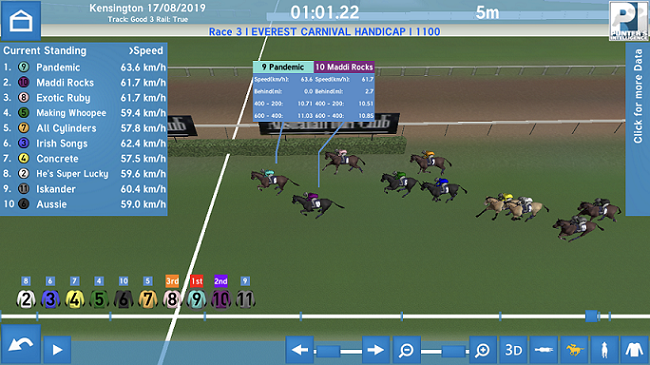 If the tracks stay dry then expect the blue blooded mare Girl Tuesday to hold on to the form she displayed in a superb first-up win over 1400m.
She simply sizzled in her last 600m running 33.20 which was almost three lengths faster than the next best in the race (the stayer Etymology 33.64) and her last 200m of 11.29 was a length and a half superior.
She's bred to be running 2400m at least, whether she's a bit too brilliant to go further than that remains to be seen, but it appears she's ready to come of age.
Gelding seems to have done the trick with God Of Thunder, though confirmation of that will be in his second-up performance, if his late charge to just miss in a 1000m scamper is a pointer.
After drifting back from a wide gate and crossing to the fence he put the last 600m behind him in 32.13 and ran the fastest last 200m of the race in 10.98.
This race produced the day's best last 600m of 32.10 run by sixth placed Koonunga.
Was Thy Kingdom Come just a half a run short as he was run down by outsider I Am Vinnie in the 1400m TAB Handicap?
He was producing consistent sectionals throughout the race, and there were a couple of cheap sectionals midrace of 11.80 and 11.78, but his final 200m really let him down.
He ran 11.87, with a last 600m of 34.07, and only one horse in the 10 horse field clocked a slower last 200m than him.
Might be worth keeping in mind for next start if he meets similar opposition.
Fastest last 600m: Koonunga 32.10
Most ground covered (to win): Wolfe +10.7m
Don't miss Punter's Intelligence with Gerard Middleton, Brad Davidson and Brad Gray at 7pm Tuesdays on Sky Thoroughbred Central.