Her racing style makes it hard to be a regular winner but after another slashing performance at Hawkesbury on Saturday you have to wonder when Air To Air's day will be.
Punter's Intelligence sectional data revealed the Jason Coyle-trained mare was 23m off the lead as close to the line as the 300m mark and rushed home into third in the Group 3 Hawkesbury Crown (1300m) beaten 7.7m by Sweet Deal.
She clocked a very fast 10.45 from the 400m-200m then produced the second fastest last 200m (11.26) of the race to again catch the eye. Her last 600m of 33.48 was the meeting's third fastest and second best behind Sweet Deal (33.44) in the race.
It's the third time this preparation that Air To Air has been beaten less than three lengths after running on from impossible positions in stakes company.
Her rating was 74 going into Saturday's race so it'll tick up a point or two but that means she's still eligible for much easier races and win number two can't be far away.
Have to respect the win by Sweet Deal at the same time, she was the strongest at the finish running an 11.01 last 200m, the fastest of the meeting, so if that was her swansong she's gone out on a real high.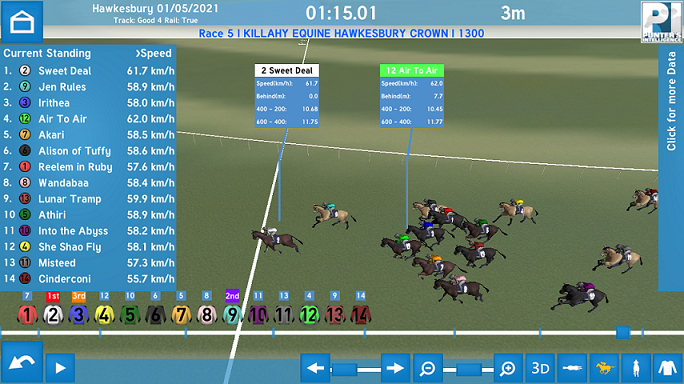 There are more wins in store for promising youngster Gleneagles after his dominance of the Clarendon Stakes (1400m), a race that has been known to produce a smart two-year-old over the years.
After settling near the tail in a moderately run race, the colt reeled off a 10.89 from the 400m-200m (a length faster than anything else) then a last 200m of 11.58 which was again almost a length superior.
His last 600m of 33.81 was a length and a half faster than the next best in what was a comprehensive performance.
The overall time of 1:22.72 stacks up okay against the Group 3 Hawkesbury Guineas for the three-year-olds over the same trip (1:21.92).
The first 600m in the Clarendon was run in 36.31 while the Guineas went out much faster (35.25), it may not be a large amount but the youngsters did pull back almost a length in the remaining 800m.
While on the Guineas, Rainbow Connection held his place as an emerging galloper finishing second with the fastest last 600m of 34.09 which included a race best 10.99 from the 400m-200m.
He did cut the corner so his distance covered was the least in the field but he's running the times while conceding starts so it'll be interesting to see what he can do if he's able to sit handier.
The winner Exoboom covered an extra 12.6m in the run so that alone earns merit but he also reeled off a race best last 200m of 11.53 in an obviously strong performance.
Jury's out a bit on Ellsberg, who was beaten favourite, as he didn't get control but wasn't anywhere near his best on the clock running 35.19 for his last 600m.
Can't see any excuses for Royal Celebration out of the Group 3 Hawkesbury Cup (1600m) as he clocked a race best last 600m of 33.64, including 10.80 from the 400m-200m and a last 200m of 11.11 (all quickest).
He covered an extra 11.3m, 0.8m more than the winner Archedemus who turned around 4m ahead and was able to hold off the favourite.
Salsonic has been known to put himself in the finish at times and his resumption in the final race, a 1300m Benchmark 78, was worth mentioning.
He ran a 33.56 for his last 600m (almost two lengths faster than his rivals) after turning near last, 10.78 from the 400m-200m and a last 200m of 11.51.
Fastest last 600m: Just Field 33.42.
Watch Punter's Intelligence with Ben Way, Brad Davidson and Brad Gray at 7pm on Tuesday on Sky Thoroughbred Central.