Masked Crusader stamped himself as one of the most exciting sprinters around with his visually stunning victory at Randwick on Saturday – but was he as impressive on the clock.
Punter's Intelligence sectional data shows the three-year-old's overall time was only third fastest of the four 1200m races on the program and his sectional times were those of a horse that had complete control of his race and wasn't let go.
Therein lies the problem of lining up his win. Aside from the first 200m where he ran the fastest sectional of 13.29 to gain control of the Benchmark 78 race, Masked Crusader's sectionals were solid but not eye-catching.
It's likely had he been let go he'd have broken 12 seconds for his last 200m, he ran 12.07 to be second fastest, but he was allowed to cruise home with backing up in Saturday's Inglis Guineas (1400m) at Rosehill on the agenda.
He clocked a last 600m of 35.53, fourth fastest of the race and it'll be interesting to see how he measures up to the stronger competition this weekend.
Segalas, not surprisingly, ran the fastest last 600m of the race in finishing second. She ran 35.24 and was also responsible for the fastest last 200m of 12.02.
It was probably the best performance of her campaign so far but she bumped into a good one.
There was merit in the first-up runs of Bjorn Baker's pair Spencer, who ran a last 200m of 12.27 as he finished off strongly, and Irukandji whose last 600m of 35.42 was third best in the race.
The Listed Takeover Target Stakes over the 1200m was run 0.02 seconds faster than Masked Crusader's Benchmark 78 and, interestingly, the winner Snitz ran a similar final 600m of 34.54.
Murillo ran the first half of the stakes race in 35.05, compared to 35.27 by Masked Crusader, and Snitz's last 600m was a remarkable eight lengths slower than the race's best, and best of the day, by Crack Me Up (34.29).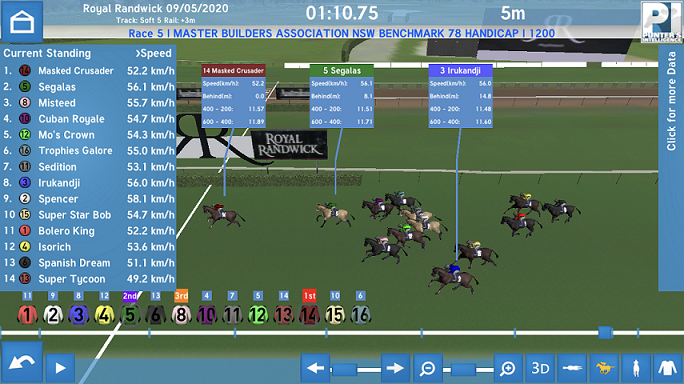 So it was a big effort by Snitz to ride the speed and manage to hold on.
Crack Me Up's last 600m was about a length and a half quicker than the next best, Redouble (34.54), and his last 200m of 11.66 was over a length better than any of his rivals.
It was the two-year-olds who posted easily the fastest 1200m on the day, the winner Peltzer ran 1:10.65 or just under two lengths faster than Snitz and Masked Crusader.
A bit like Masked Crusader, Peltzer assumed control early and he actually ran his first 600m slower in 35.35 but the youngsters got serious a lot earlier.
Peltzer's last 600m of 35.20 was only third best in the race but by rolling along the broke the hearts of those around him and had enough in hand.
The flashing light run came from runner-up Overlord who ran 34.43, almost six lengths faster, for his last 600m and he easily posted the fastest 200m splits from the 800m to the post.
He ran 10.96 (800m-600m), then 11.30 (600m-400m), 11.34 (400m-200m) and a last 200m of 11.79. He was the only horse to break 12 seconds in the race and that last 200m, the third fastest of the day, was two lengths faster than the next quickest two-year-old.
There's a 1300m two-year-old race at Randwick on May 23 that might be his stepping stone to the Group 1 JJ Atkins at 1400m next month.
Surely there's a race out there for Aliferous after another superb sectional effort in the Gosford Gold Cup (2000m).
Again she gave away a big start from a wide barrier, she was almost 50m off the lead after 600m so in running fourth it's no shock she posted easily the best last 600m of the race as she ran 35.89 (more than two lengths faster than the winner Another Dollar).
Out of the TAB Highway over 1200m it's worth staying on Derby Star's tail after his first-up fifth. He ran 35.40 to be fastest for the last 600m in the race but it was noticeable how much he knocked up late suggesting the run will improve him greatly.
He ran 11.73 from he 600m-400m then 11.23 from the 400m-200m, where he loomed up, but the last 200m of 12.44 was only sixth best.
Fastest last 600m: Crack Me Up 34.29
Most ground covered (to win): Grand Piano +9.9m
Watch Punter's Intelligence with Ben Way, Brad Davidson and Brad Gray at 7pm on Tuesdays on Sky Thoroughbred Central.