It was an upset from a punting perspective but take nothing away from Kiamichi's Golden Slipper winning performance.
There were three 1200m races run at Rosehill on Saturday and the Punter's Intelligence data suggests Kiamichi's price shouldn't cloud her comprehensive victory.
It appeared to the eye the Godolphin filly controlled the race, and in a way she did, but she also ran the fastest time of the three 1200m races. Her time of 1:12.82 was 0.08 faster than Krone's Darby Munro win and 0.68 faster than Avantage's Birthday Card.
Perhaps the track did dry a little but the rating didn't change all day.
Kiamichi ran her first 600m in 36.01 after jumping from the second widest alley, 0.73 quicker than the four horse battle for the lead in the Darby Munro and a whopping 1.88 faster than Avantage's first 600m.
It's no surprise the Slipper's last 600m was a lot slower but only five horses ran a faster last 600m in the two-year-old feature than her 36.74.
The other standout performance from the Slipper was Yes Yes Yes. While Kiamichi went forward from her wide gate the colt, who jumped next to her, went back to last.
With Kiamichi running along, and perhaps aided by the ground making it tough to chase, Yes Yes Yes would have had to be Winx to make up the ground. As it was he ran the fastest last 600m of the Slipper in 36.21.
Most of that came between the 600m and 200m with his 23.24 easily the best for that portion of the race, but the winner's last 200m was superior to his.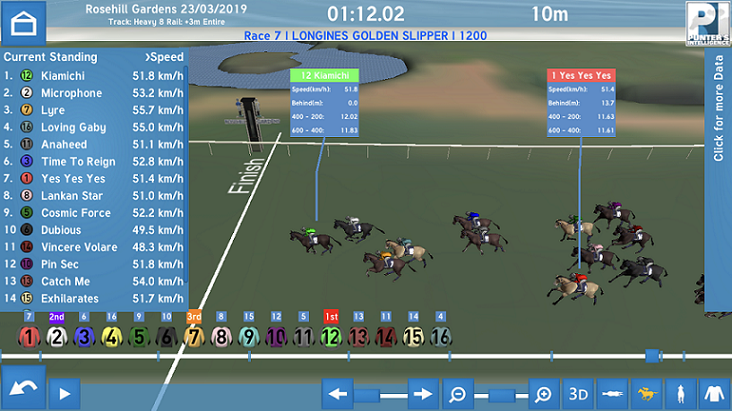 There was plenty of attention on Classique Legend in the Darby Munro and there's no doubt his effort was a big one.
He was the only horse to break 14 seconds from the standing start, running 13.97 for the first 200m, but wasn't able to cross in the lead and by the finish he'd covered an extra 6.2m in the run.
With a soft run it's no surprise the winner Krone could sprint home in 35.21.
Let's look at Classique Legend and the runner-up Wild Planet, whose run has been a little forgotten.
Considering the work he was asked to do the grey's last 600m of 36.19 was pretty solid, the fourth best in the race, while Wild Planet, who was one of those punching up to keep the favourite wide, ran 35.97.
Wild Planet was used up a bit early as well, he ran 10.96 for the 1000m-800m so while he didn't cover the ground of Classique Legend (+6.2m) he shouldn't be undersold going forward.
What can you say about Winx?
On a day where times weren't overly fast she again was the exception. She covered an extra 11.9m in the run and her last 600m of 34.45 was 0.69 faster than runner-up Brutal.
She clocked 11.54 from the 600m-400m, 11.21 from 400m-200m and 11.70 for the final 200m. That's a clear half a second faster than any other.
A mention must go to Pierata who went within a whisker of claiming the Group 1 Galaxy.
At the 400m Pierata was 18m behind the winner Nature Strip and charged home his last 600m in 34.52, with a last 400m of 23.26. Nature Strip's last 600m was over a second slower in 35.60 and his last 400m was 24.26.
Fastest last 600m: Winx 34.45
Most ground covered (to win): Avilius +14.5m
Don't miss Punter's Intelligence with Gerard Middleton, Brad Davidson and Brad Gray at 7pm on Tuesdays on Sky Thoroughbred Central.