If you could take one horse in the short term out of the Golden Eagle meeting on Saturday there's a good argument that Mr Reckless is the one.
It was the first sign of form from the five-year-old import since his Australian debut back in March and at a distance, 1500m, that's below his best.
He was touched out by stablemate Asterius, a noted second-up performer, but from a sectional perspective it's all about Mr Reckless.
He ran easily the fastest last 600m of the race in 33.81, more than a length better than the winner, and he was responsible for the fastest 200m splits from the 800m all the way home.
The last 200m of 11.54 as a length faster than anything else in the race and it suggests once he gets out beyond a mile, he has won up to 2303m overseas, he can pick up a few races through the summer.
It's a nice segue into the $7.5m Iron Jack Golden Eagle to line up that race from a time standpoint as both were run over 1500m.
The benchmark race was run in 1:30.33 while the Eagle was more than 12 lengths faster in 1:28.28.
The first 500m of both races couldn't have been any different – Turnberry put that section behind him in 31.37 which is very casual when you compare to Sunlight's 29.69 (granted the Eagle was a larger field), some 10 lengths faster.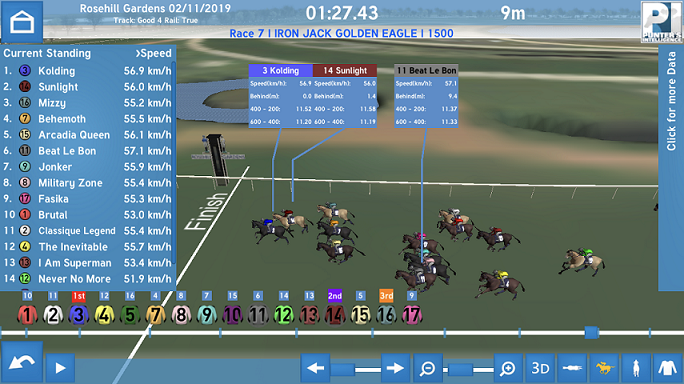 Sunlight's intentions were made clear quickly, she put successive 10.83s behind her from the 1400m-1000m, and had a level of control from there as she backed off a little once in front.
The actions of I Am Superman (11.29 from 800m-600m) taking off well before the turn livened her up and she ran 11.19 from the 600m-400m, a time jockey Luke Currie was probably banking on continuing the relatively cushy lead.
It was a gun ride by Currie and it almost came off.
Golden Eagle winner Kolding had plenty of traffic to negotiate to get the job done and he exploded once the run came at the 200m, running 11.81 for the final 200m which was a length faster than anything else and he was one of only two to break 12 seconds.
The other was the import Beat Le Bon who was slowly out but steamed home running a last 600m of 34.66, bettered only by Kolding's 34.53, and a last 200m of 11.96.
The Group 3 Spring Stakes (1600m) coming up at Newcastle later this month could see a rematch between three of the first four home in the Power Access Handicap (1400m).
Rule The World was the ultimate professional and kept his unbeaten record intact running a solid 35.05 for his last 600m from on the speed.
Runner-up Grand Piano was very strong late, clocking the fastest last 600m of 34.60 and last 200m of 11.68, as was fourth placed Indy Car who ran 35 (last 600m) and the second best last 200m of 11.91.
There's a case to forgive Special Reward from his defeat at his first run for Kris Lees in the Chandon S Handicap (1100m).
He reared at the start and missed it then burnt around them, running 10.61 between the 1000m and 800m which was two lengths faster than anything else for that early part of the race.
His last 200m of 11.69 was only 0.1 slower than the best for the race as he kept coming after looking beaten to run fifth.
Fastest last 600m: Deprive 32.73
Most ground covered (to win): Pierata +9.3m
Don't miss Punter's Intelligence at 7pm on Tuesday on Sky Thoroughbred Central.