Chris Waller's decision to switch Group 1 winning colt D'Argento to the Doncaster and not tackle the Australian Derby on Championships Day 1 was met with mixed reviews from punters.
But, even though the colt didn't take the premier handicap mile, his performance to run fourth vindicated that decision and Punters Intel tells us why.
The grey easily ran the fastest last 600m of the $3m The Star Doncaster Mile (1600m), clocking 34 seconds flat.
He was the only horse to break 12 seconds for the last 200m, running 11.95, and that was after jumping from the outside gate and going back.
When the winner, Happy Clapper, sits as handy as he did and runs 34.95 for his last 600m with a last 200m of 12.01 it's impossible for a horse like D'Argento, as excellent as he was, to reel him in.
The effort confirmed the colt as a potential topliner and it'll be interesting to see what the future holds for him.
Runner-up Comin' Through covered an additional 13.6m in the run so his effort was outstanding.
Humidor, who backs up in the $4m Longines Queen Elizabeth Stakes (2000m) this Saturday, ran the third fastest last 600m (34.87) and last 200m (12.07) so he's lost no admirers.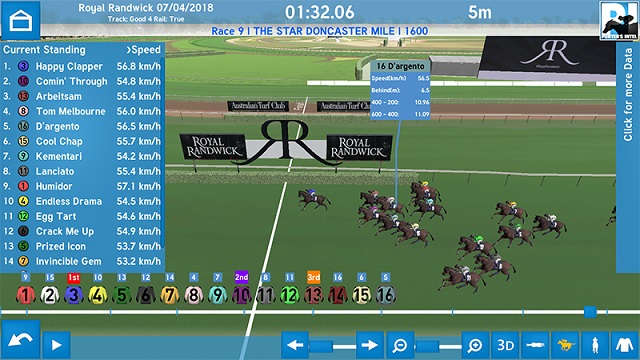 The Group 1 $2.5m Darley TJ Smith Stakes (1200m) was all about Trapeze Artist, a career best performance to knock off Everest champ Redzel proving he'd be a major force if allowed to race on at four.
He covered an extra 7.4m thanks to a three wide run but easily posted the best last 600m of 33.33, a 10.92 from the 400m-200m and the 11.35 from the 200m-home.
While third placed In Her Time caught everyone's eye with her weaving finish from well back, her face value sectionals weren't as strong as the winner.
She clocked 33.62 for her last 600m including 11.01 (400-200) and 11.43 (200-WP). Granted, she did strike some traffic so those figures could have been a little better.
El Dorado Dreaming caused a major upset winning the Group 1 $1m Inglis Sires (1400m) at 150/1 but take nothing away from the performance.
The filly ran the fastest last 600m of the race, in 34.34 and covered an extra 11.2m – that's 3.2m more than runner-up Oohood (last 600m in 34.88) who looked unlucky.
And that could be reflected in the difference in the splits of the two fillies – El Dorado Dreaming ran 10.99 from the 400m-200m compared to Oohood's 11.45; then 11.86 for the last 200m while Oohood charged running 11.72.
A couple of other runs to note:
Lean Mean Machine ran 33.96 for his last 600m in the Kindergarten Stakes (1100m), which wasn't the quickest, but the sectional of interest is the 400m-200m where he did clock the fastest split of 10.83.
From there he levelled out running 11.69 suggesting he's looking for more ground.
Luvaluva covered an extra 10.2m in winning the Adrian Knox (2000m); while She's A Treasure ran the fastest last 600m of the race in 35.43.
Fastest last 600m: Trapeze Artist 33.33
Most ground covered (to win): Levendi +12.4m
Watch Punters Intel with Gerard Middleton, Brad Davidson and Brad Gray on Sky Thoroughbred Central at 7pm Tuesdays.