Chris Waller's stocks as a two-year-old trainer continue to rise and it won't be too long before Orcein cracks it for a win after an eye-catching effort at Rosehill on Saturday.
If the winner Gongs is a Golden Slipper contender then Orcein is also set to be a force in the major two-year-old races on the horizon.
Punters Intel data from the 1100m juvenile race is interesting reading.
Gongs basically won the race in the first 300m, where Orcein took a while to get going. The winner ran 18.98 for that 300m while Orcein managed 19.60.
From there it was all the Waller colt with three of the last four 200m sectionals belonging to him – particularly finishing off with an 11.28 and 11.33 among his 34.20 last 600m.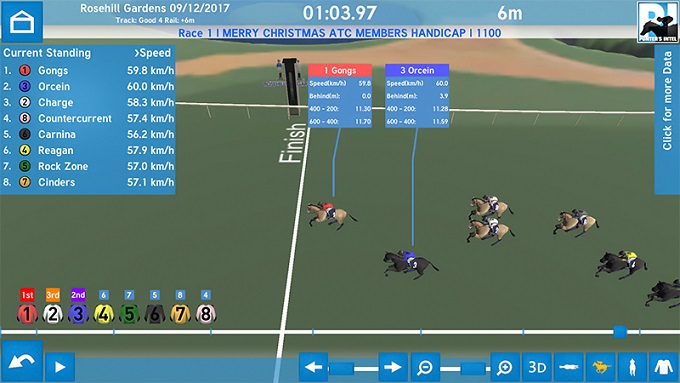 There was plenty of talk about the narrow defeat of Heliosphere in the 1400m three-year-old event and PI data showed the wide run was probably the difference between winning and losing.
He covered an extra 10m in the run but still produced 33.91 for his last 600m to go down narrowly.
Quite often the winners don't return the fastest sectionals of the day and this was the case at Rosehill with the only three horses to break 33 seconds for their last 600m all being beaten.
They were Bon Amis (32.98), To Excess (32.61) and Torpenhow (32.99).
Another in-form galloper who performed exceptionally on Saturday was the Waller-trained Cellarman, who ran third in the final event.
He was set a bit of a task settling right back but was the only horse in his race to break 11 seconds for a sectional which was run in his last 600m of 33.38. Also noteworthy is he covered an extra 10.7m which was more than any other runner in the event.
Turning the attention to Newcastle on Saturday and another from Waller stable, lightly raced filly Seahampton, is well worth staying with.
The three-year-old was having only her second start and dispensed with her maiden rivals impressively after settling well back and striking some traffic at a vital stage.
PI data from Newcastle showed Seahampton ran her last 600m in a respectable 34.43, easily the fastest of her race, and her 400m-200m of 11.18 showed she has a nice turn of foot.
She's still learning and it'll be interesting to see what improvement she can take out of a promising win.
Fastest last 600m: To Excess 32.61
Most ground covered: Carzoff +13.4m.
The Punters Intel App is available for free via iTunes for apple devices and Google play for Android and from Racing NSW website for PC's.