Zalatte is one name that we're sure to hear more of in 2019 after she made it two from two in an outstanding performance at Rosehill on Saturday.
And Punters Intel data tells us why.
There were four 1400m races at Rosehill and the three-year-old event won by Zalatte shared the slowest first 400m with Sweet Deal's BM78 mares race.
But overall the three-year-olds ran the fastest time of the four races and from the 1000m it was a dash home so for Zalatte to reel off a 33.55 last 600m from last underlines her potential.
She clocked 11.60 from the 800m-600m then 11.27 (easily the fastest) from the 600m-400m but it was a slashing last 200m of 11.22, 0.42 faster than any other runner, that really stood out.
This is a filly bred to be an Oaks contender in the autumn.
And it's worth noting there were comparisons between Zalatte and this year's ATC Oaks winner Unforgotten after the race, of course Unforgotten won a 1500m event on the corresponding meeting in 2017.
A somewhat hidden run in behind Zalatte was that of her stablemate Beidi who signalled he could be getting back to his best with a close up fourth.
He was faster from the 400m-200m (11.01) than Zalatte and ran the second best last 600m of 33.98.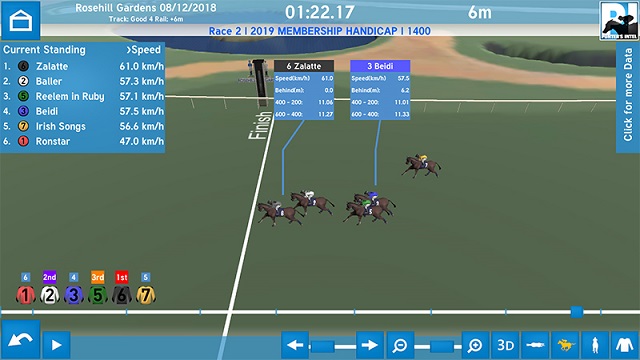 It's rare that a horse runs the second slowest last 600m of a race and still wins and that was the scenario with all the way victor Irithea thanks to a masterful ride by Jean Van Overmeire.
There was no loafing in her 1400m event as she put down the first 400m in half a second faster than Zalatte but finished the race in almost half a second slower overall.
Irithea put down her first 400m in 24.22 and once she established her place in front she was able to take a small breather running 11.57 from the 1000m-800.
But that was the only breather as Van Overmeire asked the mare to slip away from the field to the extend that she was still 12m in front of the pack at the 300m.
She ran 11.47 from the 800m-600m then again stepped it up with 11.38 from the 600m-400m and by then she'd established that race winning lead.
Only two rivals ran slower from the 400m-200m than Irithea's 11.57 and again only two others were slower than her final 200m of 12.25. And she was one of only two not to break 35 seconds for the last 600m (35.20) in the race.
It's fair to say JVO got his timing right on the mark.
Kudos to the runner-up Smartedge who was some 22m off Irithea at the top of the straight, he clocked the fastest last 600m of 33.96 and best last 200m of 11.60 to just miss.
Another eye-catcher from the back was the somewhat enigmatic Redouble who produced a super effort under 62kg from an impossible position to run fourth at his second run back.
He found himself 28m off the lead at the 600m of the 1300m sprint and the first three home were the first three around the corner.
Redouble's last 600m of 33.34 was 0.3 seconds better than any other runner and he was the only horse to break 11 seconds (10.86) from the 400m-200m as he made the bulk of his ground.
He's ready to win but given he's drawn poorly at his two runs back and had to concede starts he might need a favour from the barrier gods as it's over 12 months since his last win.
Fastest last 600m: Viceroy 32.52
Most ground covered (to win): Sweet Deal +9.4m
Don't miss Punters Intel with Gerard Middleton, Brad Davidson and Brad Gray on Sky Thoroughbred Central at 7pm on Tuesday.