Could The Autumn Sun be racing's next big thing?
The exciting colt gave what looks to be a very classy bunch of three-year-olds a start and a beating in a stunning performance to win the Golden Rose (1400m) at Rosehill, suggesting he's something special.
The Punters Intel data from the Group 1 feature tell us The Autumn Sun had plenty of work to do after being 24m off the lead at the 600m.
From that point he produced a final 600m of 33.56 which was over half a second faster than any other runner in the Rose and a last 200m of 11.30, some 0.34 quicker than the next best.
For a horse to sprint over a trip that is universally thought of as short of his best it's a sign he is a star in the making.
There's been Everest talk around Graff, third in the Golden Rose, and while beaten he was far from disgraced from a sectional perspective.
He was probably never going to beat The Autumn Sun by only being a length or two in front of him early in the straight and he did his best to match the winner's sprint for a fair way.
Graff's last 600m of 34.10 was the second fastest, as was his last 200m of 11.64. From the 400m-200m he matched The Autumn Sun's 11.01 but wasn't able to sustain it.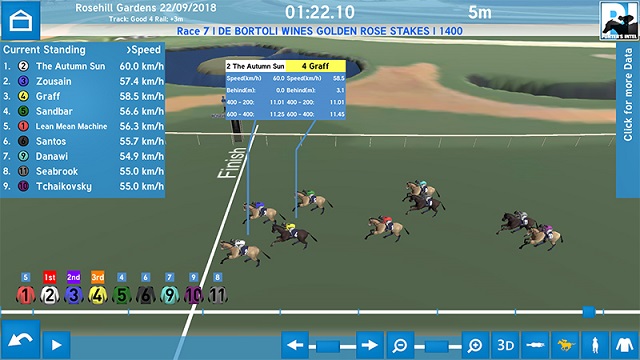 Most people's black books contain the name Invincibella after her unlucky fourth in the Golden Pendant (1400m) and you have to wonder what might have happened had she gained a clear run.
While being held up she ran the best last 600m of the race in 33.39 and somehow produced the fastest last 200m of 11.35. This may have been a race that got away but she's in career best form and is some chance of reproducing it.
Invincibella was able to down Noire when they met in the Sheraco Stakes and that form stood up with the latter running the best last 600m of the day to win the Shannon over 1500m.
Noire had an uninterrupted run down the outside and reeled off 33.21 for the last 600m – she actually ran the quickest 200m individual splits for the final 800m.
Behind her were a couple of eye-catching runs from stablemate Youngstar, who had traffic issues but still ran 11.51 for her last 200m (just 0.04 slower than Noire), and Tally who was first-iup worked home well with an 11.59 final 200m.
Emerging staying three-year-old Thinkin Big was given a masterful ride by Tim Clark to lead all the way in the Gloaming Stakes (1800m) with a midrace breather the key ingredient to his easy win.
He established the lead with 14.13 for the first 200m and asserted early authority running 11.77 from the 1400m-1200m.
Then Clark backed right off in the middle three sectionals before ramping it up again with a final 600m of 34.71 (0.01 slower than runner-up Tarka who clocked best last 600m but gave away a big head start).
There has to be a staying race in the near future with Opposition's name written all over it after he sizzled in the 2000m benchmark event to close the Rosehill meeting.
He was the only horse to break 34 seconds for the last 600m (33.74) in the race and his last 200m of 11.40 compares very well with the best last 200m of the day which was 11.29 from Gem Song over 1300m.
Fastest last 600m: Noire 33.21
Most ground covered (to win): The Lord Mayor +11.5m
Don't miss Punters Intel with Gerard Middleton, Brad Davidson and Brad Gray on Sky Thoroughbred Central at 7pm on Tuesday.