It's easy to get carried away with the finish of a backmarker but lightly raced three-year-old Heliosphere signalled he's in for a big preparation with his exciting return at Rosehill.
While it's not the first time the colt has produced a big fresh effort – he did the same on debut – it was the first time he'd raced below 1400m.
Punters Intel data showed he covered the last 600m of his 1200m race in a sizzling 32.87. Though aided by a solid tempo he was fairly consistent through those final three furlongs.
A 10.99 then 10.81 and an 11.07 home were about as good as anything ran all day.
Helisophere did win at a mile second-up in his only other preparation so it'll be interesting to see what progress he makes next start.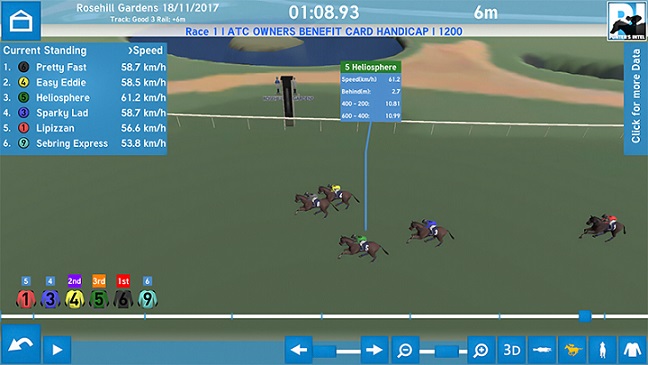 Interlocuter is fast becoming one of the stars of the spring, away from stakes racing, and while he looked to paddle a bit at the end of 1900m to the eye the data doesn't quite support that.
He ran the fastest final four sectionals in the November Topaz in 11.39, 11.34, 11.39 and 11.99 and was the only runner to break 35 for the last 600m (34.72).
The import also ran the fastest individual sectional of the race with his 11.34 from the 600-400.
The clash between Sedanzer and Slow Burn was always going to be an interesting one and in the end it came down to the former being stronger at the 1400m.
There wasn't a lot between the pair until the final 200m where you could see Sedanzer reeling in Slow Burn – her final split of 11.35 was 0.20 seconds faster than the runner-up.
It's worth noting out of the race that eighth placed Siren's Fury ran the second fastest final 600m of 33.18.
In the 2000m event, Lead Choreographer not surprisingly knocked right up after going out with a lead of over 15m past the 600m. He staggered home from there in 38.07.
Can't knock the performance of the winner Lord Kingsley though, he covered more ground than any other horse in the race!
A couple of notable pieces of info from the night meeting at Canterbury on Friday.
Impressive winner Noire raced like a jet in the last 600m of her 1100m event with a 34.47 last 600m including three very consistent splits of 11.55, 11.41 and 11.51.
The other stand out winner Serene Miss came home in much slower time in her 1200m race with a 35.17 last 600m but her best work was late running an 11.36 final 200m.
Fastest last 600m (Rosehill): Helisophere 32.87
Most ground covered: Lord Kingsley +12.7m (2000m)
The Punters Intel App is available for free via iTunes for apple devices and Google play for Android and from Racing NSW website for PC's.